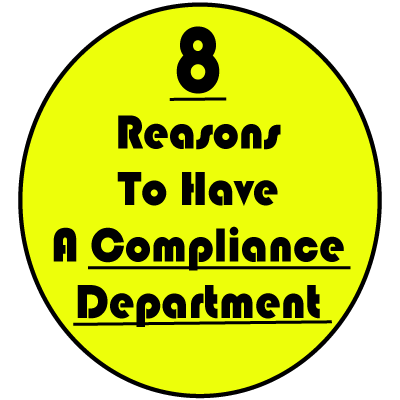 Would you rather go to the dentist, or set up your direct selling company's Compliance Department?  Whether you would prefer to go to the dentist or not, this video is for you!
Compliance Department
There are many reasons why your network marketing, party plan, or social selling company needs to have a Compliance Department.  In this video, I will share eight of them with you.
Your company's success depends in part on how well your independent representatives are trained.  Are you training on the right topics, in the right ways?
Training Topics
Your independent representatives need to be trained on several topics.  These are:
Be sure to spend adequate time and focus on what can be said about product claims and income claims, and how to use social media and advertising.
Training Approaches
Not everyone learns best the same way.  This means that your representatives should learn what they need to know by:
Reading the information in print or on your website.
Listening to information on audios.
Watching videos (or PowerPoints) on how the business is done.
Observing what their sponsors and upline mentors do
Quality Over Quantity
In today's "give it to me now and fast" environment, training is performed best in bite-sized chunks.  Present information that can be read, listened to or watched in less than 10 minutes at a time.
Your goal in creating training materials should be to use as few words in as few minutes, as possible.  If you can say something in three sentences instead of thirty sentences, do it!
Learn From Others
While you may develop and deliver some great training programs, some of your independent representatives will create effective training content that you may wish to include in your company training materials for everyone's benefit.  This is a good thing.
If you do include ideas that originate in the field, be sure to recognize the contributions of the contributors publicly.  If you do, this will encourage more creativity from your field.
Training For You
If you are new to the world of direct selling, there is a learning curve ahead of you.  Fortunately, you don't need to learn everything yourself.
Sylvina Consulting can shorten your learning curve by teaching you what you need to know pretty quickly.  We recommend three steps to get trained in this industry.
Step #1
Get yourself a copy of our powerful direct selling startup guide, Start Here: The Guide to Building and Growing Your Direct Selling Company. This is no ordinary book.  It is 14 chapters of essential information that you need to know to be successful, in 250 pages, with groundwork activities (homework) for you to do at the end of each chapter.  We call it a guide.  Others have said it is part textbook and part workbook.
Check out the Table of Contents and what others say about our book.
Step #2
The best students go to school. And we at Sylvina Consulting co-sponsor the best two-day school for new and young network marketing and party plan companies.
Our school is the Direct Selling Edge Conference. We call it that because to be successful in this space, you need an edge and our conference will give you one. Held several times yearly, the DS Edge Conference gets rave reviews from our students.
Step #3
Let us teach you more.  Sylvina Consulting offers hourly, daily, and monthly consulting to help fill in the gaps.  We believe that even the best teams have a coach. We are highly responsive to the needs of each and every client.  You will thoroughly enjoy working with us.
Conclusion
You know that going to the dentist, while perhaps a little painful, is good for your health.  Similarly, setting up a working Compliance Department is essential to the health of your direct selling company.
To learn even more about compliance, I invite you to meet us at the next Direct Selling Edge Conference, where we present a class on how to set up and operate a Compliance Department.