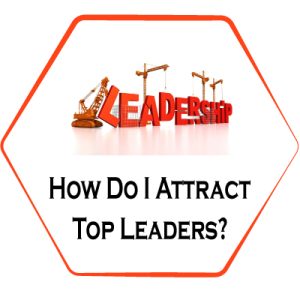 If you have an established direct selling or referral marketing company with annual sales of $50 million or more, you are likely to attract top leaders because you have a proven track record.
But what if you're new or your annual sales are less than $50 million?  To attract top leaders, your track record isn't enough, so to attract them, you need to take other steps.
Here are some things you can do to attract them:
Have a strong leadership development program.  This will show them that you understand the best predictor of the success of a direct selling company.
Show them that your company is stable and well-funded.  They need to know that their time, energy, and commitment to your company will be reciprocated with longevity.
Make sure you have a good compensation plan. If you're not sure, call us at Sylvina Consulting at 503.244.8787. We offer a free professional opinion.
Don't hide the identities of your owners and executives from your website or your marketing materials.  Top leaders need to know who is running your company and what each person brings to your success team.
Implement a Founder Program with additional rewards for achievers.  Don't make the mistake of paying top leaders for past achievements. Use a "pay for performance" approach instead.
Offer products that people purchase more than once, preferably through an autoship program.  While not every company's products are suitable for delivery through an autoship program, if your products can be sold this way, you should.
You can do even more!  Proactively participate in LinkedIn groups, contributing to the conversations in meaningful ways.  In short posts, share information about your leadership development program, your company's stability, the backgrounds of owners and executives,  the existence of a Founder Program, etc.  In other words, use the six steps above because these things matter to top leaders who may be looking to join a new company like yours.
Leaders Leaving?
The bad news is that, eventually, all leaders stop acting like leaders.  Why?  There are many reasons and there is a lot you can do to keep them engaged and productive.
I recommend a two-pronged strategy:  leader retention and leader recovery.
Leader Retention
Leaders stop leading when one or more of the following are present:
personal priorities have changed
disenchantment occurs in response to changes in your company that are unfavorable to leaders
unhappiness is present with an upline leader
there is poor or absent leadership from the company
company training of leaders is poor
leaders don't have personal goals
company or leadership politics make leaders feel uncomfortable
the company provides inadequate recognition
your compensation plan does not provide leaders with sufficient rewards for their contributions
Retention is doing all you can to keep your representatives engaged and active in the business as long as possible.  Leader retention is providing leaders with the opportunities, recognition, and rewards that leaders want.
To keep leaders engaged, direct selling companies must:
train and retrain leaders
consider how changes will affect leaders
provide leaders with advance notice of upcoming changes
communicate to leaders the benefits that leaders will experience
teach leaders how to set personal goals
recognize privately and publicly leadership achievements
be consistent in how they respond to leader complaints about other leaders
Leader Recovery
If you are measuring both company and individual consultant performance metrics in a set of key operating indicators, you can tell when individual leaders, and when leaders as a group, stop leading.
Here are steps your company can take to get leaders leading again:
remind leaders of the benefits of leadership
revisit past achievements and ask how they felt when they accomplished these goals
help them to set new goals
on a personal level, find out why each leader stopped leading and then respond, when possible, with specific solutions
offer to work with leaders personally to help them to get growing again
Don't make the mistake of threatening leaders with discipline as a consequence of inactivity.  Like all independent representatives, even your leaders are volunteers.
Conclusion
If you want to know more about how to attract or develop leaders, contact Sylvina Consulting.