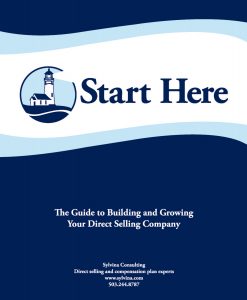 We think our startup guide for network marketing and party plan companies is great, but what matters most is what others say.
Below are just some of the words of praise we have received about our book.
| | |
| --- | --- |
| Your book has been my bible! So, thank you again for your insight and wisdom. | S.T. |
| This guide was the only place where I could find an A–Z assessment of how to start-up a direct sales business. The guide was concise and thoughtful. And the one hour of consultation was the most effective hour I spent starting this business. | W.C. |
| I have read several MLM start up guides and books and your book is by far the best I've come across. The ease of reading and well defined, easy to reference sections were very helpful. The major task list and the timeline alone were worth the price of the book!! It was a very good investment of our time and money. | G.D. |
| I have been growing my direct sales company for 6 1/2 years. Some information is so hard to find. The "Start Here Guide" contained so much valuable information that in the last 6.5 years, I had never come across or even thought of. Well worth the money. | A.A. |
| I felt you were there, encouraging me. I like the tone of your book and the quotes, too. It was well written. You were right there coaching and encouraging me all the way through. | R.G. |
| This book is very well written. | P.E. |
| I love the worksheets! You can write everything down. There is so much in here that I hadn't considered. | A.A. |
| This is a complete guide to going from not knowing anything to getting started with my company. The timeline was my favorite part. | S.J. |
| This book is very well written. | P.E. |
| This book is a comprehensive roadmap to determine the viability of a company entering the MLM industry.   It was written in terms that you don't need to be a sophisticated business person to understand them.  What I enjoyed the most was there wasn't a lot of fluff to it.  This was meat and potatoes.  It was forward and honest without the upselling that many consulting businesses typically try to do. | T.W. |
| The book has opened my eyes to a lot of things that are going to need to be done to do this correctly. | S.L. |
| Launching a direct sales business can be overwhelming. The 'Direct Selling Start Up Guide' has been invaluable in helping us through the process. The guide breaks down each step in manageable pieces and helps you understand the do's and don't s of direct sales. I would not hesitate to recommend this guide to anyone considering starting a direct sales business. | J.W. |
| The Direct Selling Guide was a very useful tool in getting fast answers to the many questions I had. The guide itself is well prepared and well thought out. It is definitely more value then what it costs, and should be read first by anyone thinking about entering the direct selling market. Sylvina Consulting has done a great job making it so affordable. | R.M. |
| I liked the scope of the book, it made sense. It showed me from a company standpoint things I just did not know, and it reinforced in a better way things that I did know. I believe it is worth every cent and more. | J.B. |
| The points you made about the thought process to set prices were very helpful.  The insight you gave me led me to package my products differently. I'm excited about my new packaging!  I especially liked the Timeline/Checklist to make sure I wasn't forgetting anything. | L.D. |
| It was an eye opener for both of us. It was very informative. | A.W. |
| I had my CFO read the whole thing. | J.A. |
| The Start Up guide has been an invaluable resource for figuring out what areas I need to focus on for starting my business. This guide has the exact step by step details that every business needs to go through and understand to get off to the right start. It explained things that I had never even considered, which gives me the confidence to know that I am seeing the whole picture before moving forward. I would recommend this guide, and the free hour of consulting to anyone who is serious about their business. | M.P. |
| This is an incredible source of valuable information for both startup and existing companies. | G.N. |
| The StartUp Guide was exactly what I needed. It provided a great overview of all that is needed to start and build a direct selling business. It was in one location and divided into very digestible and action orientated steps. It specifically helped me outline my next steps and build a plan for the future. | J.D. |
| Before I read this book, I was apprehensive about direct selling. Start Here answered my questions. I really liked the methodical organization and the in-depth information presented, as it walked me all the way through the process of creating a direct selling company. From it, I learned not only the basics, but a lot more. Many think direct sales is a "no brainer." Trust me, it's not. This guide told me what to expect and what to do. | M.B. |
| Through my many years of direct sales research, I have accumulated stacks of books on the subject as each book would only apply to one segment of the business. I value Start Here because I have found what I need right at my fingertips in one well written book. | M.S. |
| The guide enlightened us on the bigger picture. You see the small things as you are thinking about starting a direct sales company, but the guide gave us a complete understanding. | M.H. |
| Start Here is a clear and concise guide to follow. It's like having your own consultant on paper to refer to when needed. | A.W. |
| Starting a business can be overwhelming. This guide is incredibly helpful because it takes me step-by-step through what needs to be done. | B.R. |
| Start Here is easily understood and absolutely a great value. | A.J. |
Start here. Get your copy of our powerful direct selling startup guide, Start Here: The Guide to Building and Growing Your Direct Selling Company.  The information in our book  will help you to avoid making big mistakes that could cost you thousands of dollars and hundreds of hours of your time.
You will receive:
15 chapters on the most important topics
250 pages of direct selling wisdom you need to know
plus 1 hour of consulting for your business
Start Here is a great value at $299 plus shipping by USPS Priority Mail.