Compensation Plan Consulting
We professionally evaluate, design and improve multilevel compensation plans for network marketing, party plan, and social selling companies.
We work closely with MLM software companies to implement and test compensation plan programming.  We create field documents, PowerPoint presentations, and video scripts for plans we design, or for compensation plans designed by others.  We help you to teach your sales force how to present your compensation plan.
Direct Selling Startup Guide – 250 Pages
If you are starting or plan to start a new party plan or network marketing company, we also recommend our direct selling startup guide as an essential step to build a successful company.  You don't know what you don't know.  We can help you with that.  Our book is available in English and Spanish.
View the Table of Contents of our 250-page direct selling startup book.
Consultants To Direct Selling Companies
For more than 25 years, we have provided over 400 network marketing and party plan direct selling companies with wisdom and solutions to improve the health and stability of their businesses. Sylvina Consulting can help yours, too.
Compensation plan design and compensation plan evaluations are two of our specialties. Improving network marketing and party plan companies is another.
For new or young direct selling companies, Sylvina Consulting offers a broad range of consulting services and deliverables to help you to start strong or to grow fast.  Established direct selling companies rely upon our counsel to solve challenges.
Sylvina Consulting can help you, as developer or advisor, in many areas of your network marketing or party plan company.
Direct Selling Education Conference For Companies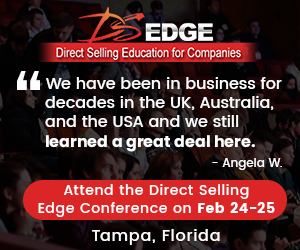 Sylvina Consulting and Thompson Burton co-sponsor the Direct Selling Edge Conference.
Do you know everything you need to know to have a thriving, successful network marketing or party plan company, or do you need to know more?
Give yourself and your company the gift of company education.  Learn what you don't know.
Attend the Direct Selling Edge Conference, our direct selling school for direct selling company owners and employees.  This is pure education.  Come to warm and sunny Tampa, Florida on February 24-25, 2020 to learn how to grow your company smarter and faster.
Every second was worth the time! I've learned more in 2 days that I've learned the last 18 months as a president of an MLM. Thank you!!  Guy Douglas
I went to another company's conference last spring. I learned more in the first two hours of this conference than I learned in two days with the other one. The content shared was detailed and specific. I now know how to proceed with our company.  Gwen Wolken
Thanks for a great event, packed with relevant, motivating facts, ideas and truths about the direct selling industry. Everyone was very qualified and enthusiastic and prepared to show us "insider" information that can be a game changer for your business. Glad that I drove 7.5 hours to get here.  Nancie Anne Frazer
I came to this conference two years later than I should have. Had I come two years earlier, I would have saved over $100,000 AND two years.  Thomas Baker
You are visiting our website which contains a treasure trove of information written specifically for owners and executives of direct selling companies and people wishing to start them.
Would you like to read more later?  Signup now for our monthly newsletters in which we feature each month new articles with wisdom you need to know.
Would you like to speak with us right away?  Call +1 503.244.8787 or text, Skype, or WhatsApp +1 503.784.7873.
Video Library