Start Here: Our Book For New And Young Companies
Your greatest challenge is that you don't know what you don't know. We can help you with that.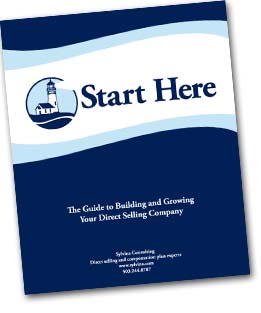 In addition to consulting with companies in the USA and around the world to build and improve their direct selling businesses, Sylvina offers an insightful 250-page "how-to" book for new and young MLM and party plan companies. First published in 2008, in 2021 it is available in its 5th edition.
"The best startup manual for network marketing and party plans, period! Jay covers all of the pertinent details. – Kevin Thompson, MLM Attorney"
Why This Book Is Important To You
Starting and growing a direct selling company is complicated.  Do you know everything you need to know?
To be successful on your journey, you need to know what to do.  Each chapter of Start Here will give you knowledge and direction, ask you thought-provoking questions to help you to make key business decisions, provide examples, and tell you what to do next.
Reviews
"I love the worksheets! You can write everything down. There is so much in here that I hadn't considered."
"This guide is incredibly helpful because it takes me step-by-step through what needs to be done."