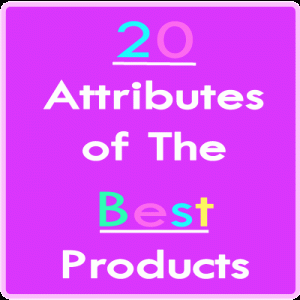 All network marketing and party plan direct selling companies are in search of new products.
Some products are better suited for direct selling than others.  Do you ever wonder about what the ideal product would look like?
We have.  In all, we've identified 20 attributes of the ideal direct selling product.
Print out this post and use it as your Product Shopping List.
This product is small enough to be carried by your independent representatives at all times to show to others.
It elicits questions when people see it.
People perceive this product to be of high value and importance in their lives.
It's easy to explain the product.
Sampling the product is easy.
It has features or benefits one can experience quickly.
Selling this product is easy.
This product can be labeled with your brand name.
The value of your brand is demonstrated well with this product.
It can be purchased more than once, preferably on a predictable schedule.
Consumed not only by your independent representatives,this product is purchased by retail or preferred customers of your representatives.
Your company can drop-ship this product directly to end consumers, whether independent reps or their customers.
You know the identities of most or all of the end consumers of these products.
Identical products are not available anywhere else but from your company and its sales reps.
Similar products are not easy to find.
All of the features of other products are not present in similar products.
Other products are priced higher than your products.
No other network marketing or party plan company sells this product today.
Your company can obtain this product at a cost of no more than 20% of the retail customer price.
Within 30 days of order placement, your suppliers or manufacturers can provide requested quantities of this product to your company.
What do you think?  Is this a tough list?  Leave a reply if you'd like to share your thoughts.