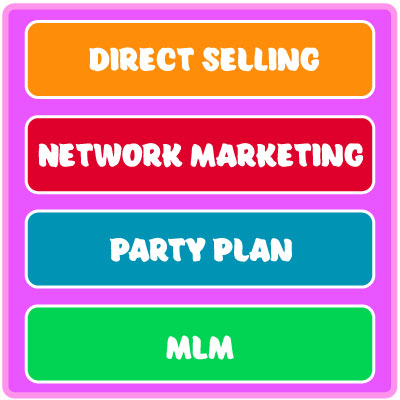 If you're confused by these words, then read this article to understand the differences between direct selling, network marketing, MLM, and party plan.
Direct Selling
Direct selling is the sale of a product or a service that is conducted outside of a permanent retail location. Most often, the sale occurs from one person to another.
Some products and services sell best when they are explained or demonstrated. This is often difficult to do in a traditional retail environment. In contrast, a direct selling business model does best when explanations or demonstrations are needed.
Unlike other businesses most of whose salespeople are employees, the sales force of a direct selling company almost always consists of independent contractors.
Successful direct selling companies provide products or services, systems, and tools to help make the entrepreneurial dreams of their sales force come true.
The benefits of using a direct selling business model can be stated succinctly as follows:
A direct selling company does not need to rely upon itself to advertise and sell its products and services. Instead, it compensates a sales force composed of independent representatives for selling its products and services to customers and for introducing, training, and supporting other representatives to do the same.
In the beginning, a direct selling company is responsible for recruiting the initial representatives and company management will continue to recruit for some time thereafter.
When the sales force is large enough, the representatives will be doing all of the recruiting.
The company will continue to support the field by holding local, regional, and national events.
Two Types of Direct Selling Companies
For many years, there have been two distinct types of direct selling companies. These two types of companies have most often been called party plan companies, and MLM or network marketing companies.
While MLM is an acronym for multilevel marketing, it is used by many people as a synonym for network marketing.  Party plan companies use multilevel compensation plans, yet some say they are not MLM.  Do you see a problem here?
Unfortunately, MLM has multiple meanings.  If you thought the English language was bad, welcome to my world!
Each type of company has an independent sales force that earns commissions on personal sales and bonuses on the sales to and by others. However, there are important differences between them in naming conventions, sales techniques, compensation, productivity, and customer characteristics.
Party Plan and MLM (Network Marketing)
Party plan companies use terms like consultant, demonstrator, stylist, and counselor. These are feminine terms. About 98% of party plan representatives are women. In creating your company, think about the composition of your sales force. If most will be men or most will be women, it would be wise to give the representative a title that fits them.
Network marketing companies tend to refer to their sales representatives as distributors, associates, independent business owners (IBOs), and independent agents. These are male-sounding words with action implied. It's no coincidence that the average network marketing sales rep is a man.
Network marketing representatives typically sell products and services one-to-one, whereas party plan representatives primarily use a group selling approach. If your product sells best when it is demonstrated or explained, a party plan format may be a good fit for you. However, if in an average group of potential customers, less than 80% will buy at least one item, then the party plan format may not work as well for you.
Both types of companies each have multilevel compensation plans by which their sales representatives are compensated. The compensation plan for either type of company should be built with consideration for the company's margins and the types, pricing, and consumption patterns of the products.
Annually, network marketing representatives typically generate about $500 to $1,000 per head in sales for the company. Party plan representatives, on the other hand, generate between $5,000 and $15,000 in sales per head each year. So, a party plan company with 1,000 representatives can generate the same sales volume as a network marketing company with 10,000 or more representatives.
Party plan representatives sell their products and services to customers who are not representatives.  Personal consumption by reps is a very small portion of the company's sales.  Sales to non-participants in the income opportunity typically represent 90% or more of the company's total sales.
For most network marketing companies that sell products as opposed to services, the sales representative is the typical customer.  In these companies, historically, there was often a small amount of retailing of products to non-participants.  However, due to recent FTC landmark cases, this is changing.
When the products are consumable, sales reps are encouraged to sign-up for an autoship program to create residual income for upline participants.  Customers may also be offered autoship ordering as a way to save money or earn loyalty benefits in product credit.
More service-based network marketing companies encourage retailing of services to "customers"; these are non-participants in the income opportunity.
An important exception is found in network marketing companies with low barriers to entry. The lower the fee to join a company, the higher the percentage of sales attributed to personal consumption. This is because companies with low barriers to entry (less than $50, for example) attract large numbers of people who join just for product discounts.
Without a retailing component, if you don't recruit, you won't earn any money. Party plan representatives can earn significant income by selling without recruiting.  In fact, the average party plan participant who earns $300 to $500 per month earns little on the sales volume of others.
The business model you select is important for each motivates and rewards different behaviors.
Sylvina Consulting can help you, as a developer or advisor, in many areas of your business, including guidance on which business model is best for your company and its products.
To answer your questions, contact us at 503.244.8787 or you may request information here.