We invite you to meet with us at the following events for network marketing and party plan direct selling companies:
Our 20th Direct Selling Edge Conference will be held on Thursday and Friday, July 12-13, 2018 in Salt Lake City, Utah.
Early bird tickets are only $150 each including two lunches, when purchased by June 12, 2018.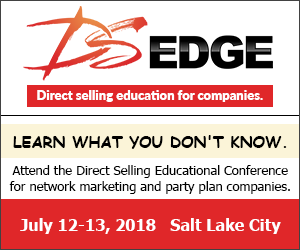 President Jay Leisner will be speaking on the topic of "Why Recognition Is Your Business" at the 2018 Annual DSA Meeting in San Diego, California on June 19, 2018.

Why Recognition Is Your Business
Recognition is central to creating pride among the members of our salesforce, but what is it, really? This session will explore basic questions about recognition including:
What is Recognition?
The Experience of Recognition
What Should Be Recognized?
Budgeting For Recognition
The session will also explore ideas that work for driving results including:
Contests vs. Incentives
Are Contests Good Or Bad?
A Review Of 12 Behaviors
Steps To Design A Contest Or Incentive
The session will also discuss issues including:
Eliminating Compensation Plan Problems
Warning Signs of a Recruiting Culture In Trouble
Common Recognition Mistakes
Why Recognition is So Important