We invite you to learn from us and others at the following events for network marketing and party plan direct selling companies:
Compensation Plan Conference Webinar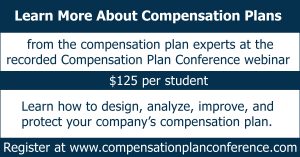 The more you know about compensation plans, the better decisions you will make for your company.
HOW DO YOU KNOW IF YOUR COMPENSATION PLAN IS IN TROUBLE?
While consulting with and improving hundreds of direct selling companies since 1986, we have seen how compensation plans can motivate and reward the wrong behaviors.
Hosted by top compensation plan expert Jay Leisner of Sylvina Consulting, this conference has been held only four times since 2015.
Register now to learn at the recorded Compensation Plan Conference webinar.


Direct Selling Edge Conference Webinar
Book now to attend the 25th Direct Selling Edge Conference webinar on October 12-15, 2020.  With your registrations, you can also watch the recordings through December 31, 2020.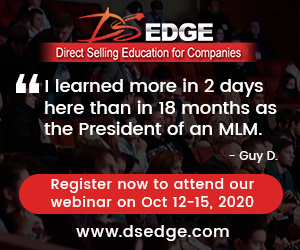 I went to another company's conference last spring. I learned more in the first two hours of this conference than I learned in two days with the other one. The content shared was detailed and specific. I now know how to proceed with our company.  Gwen Wolken
Thanks for a great event, packed with relevant, motivating facts, ideas and truths about the direct selling industry. Everyone was very qualified and enthusiastic and prepared to show us "insider" information that can be a game changer for your business. Glad that I drove 7 1/2 hours to get here.  Nancie Anne Frazer
I came to this conference two years later than I should have. Had I come two years earlier, I would have saved over $100,000 AND two years.  Thomas Baker
Thank you for the Direct Selling Edge. It was fantastic. I learned so much and every speaker was first class. If fact, the entire event was definitely one of the best learning conferences I've ever attended (and I've attended many!). You had the perfect flow. The right amount of time per speaker, enough breaks, great start and end times. I was actually able to absorb everything vs. getting overwhelmed. The access to the experts each day and for the panel discussion was icing on the cake. I can't thank you enough for the education, the new friends I met and all the generosity and expertise in that room. Thank you Jay and your team. Highly, highly recommend this conference!  Kathy Ellis