Direct Selling Experts
Since 1986, we have worked with hundreds of direct selling, network marketing, party plan, referral marketing, and affiliate businesses of all shapes and sizes, from a one-man band with a great idea to multinational corporations with more than $1 billion in annual revenues.
From Seed to Mighty Oak
We have provided consulting services to early-stage startups, young companies, and established businesses in the USA and other countries throughout the globe.
Freedom of Choice
Instead of promoting a "one-size-fits-all" package of consulting services, we offer our clients the freedom to select only the services they decide are needed.
Developer or Advisor
You decide the extent of our role in helping you. We can develop the deliverables that you need, or we can serve as an expert advisor by reviewing and improving your materials.
Fast Responders
We respond to telephone calls, text messages, and emails very quickly. You won't wait days to hear back from us.
Top Talent
Our president, Jay Leisner, personally works on every project with every client.
Flexibility
We work with clients with budgets of all sizes.
Forest and Trees
We focus on both the big picture and the details. Both are important.
No Exclusive Alliances
We don't steer clients exclusively to one software provider or to one direct selling attorney.  We can suggest to you multiple sources of support in many areas, none of which compensate us for introductions.
Optional In-Person Meetings
While we meet in person with our clients from time to time, the bulk of work is performed in our offices and we communicate regularly by telephone and email.
Stay Home
We don't require that clients travel to visit with us in our offices. When meeting in person is requested, our president Jay Leisner travels to the client's location so that the entire client's team can attend and participate.  Our in-person meetings with clients permit the largest client participation at the lowest cost.
Happy Clients, Excellent Reviews
Many of our clients have written us letters to express their appreciation for our good work.  Others give us shorter words of praise.
Our Startup Guide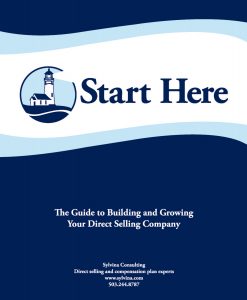 We have written a comprehensive and powerful 250-page book, Start Here: The Guide to Building and Growing Your Direct Selling Company which contains not only the answers to many of the questions asked by new and young direct selling companies but also a road map to guide you in the development of your company.
Our book will do more than just save you money and time.  It will tell you what to do, and what not to do, and teach you what you need to know to have a successful direct selling company.
Without our book, you may make big mistakes that could cost you thousands of dollars and hundreds of hours of your time.  At $299 plus shipping, our book is a great value and the best investment in your future.  BONUS:  Each book includes one hour of consulting time for your business, a $250 extra value.
See what others have told us about our book.
Read our book in Spanish: Comience Aquí: La Guía para Construir y Hacer Crecer Su Empresa de Venta Directa.
 Our Two-Day Direct Selling School

We co-sponsor the top-rated direct selling conference for new and young network marketing and party plan companies. The Direct Selling Edge Conference will give you an edge because you need one to be successful.
Presented several times yearly since 2011, our top-rated two-day direct selling school will educate you on compensation plans, legal requirements, social media, merchant account practices, local and state tax obligations, initial recruiting options, and what to do before you get your software, and so much more. This is pure education.
Our students have given us rave reviews.
Get The Dynamic Duo
You don't need to choose between our book and our startup conference.  While our startup guide addresses many topics to a specific depth, our conference drills down deep into several vital topics.
The book and the direct selling school are complementary to each other, which is why many people buy the book and attend the direct selling school for companies.