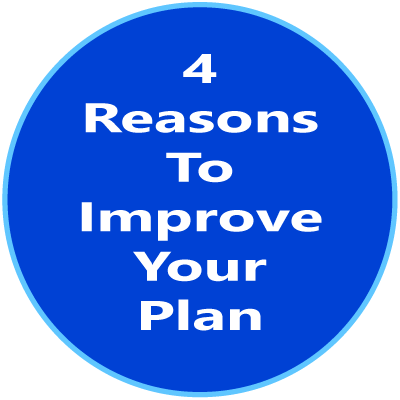 If your compensation plan isn't producing the results you expect, you either need to improve your plan or lower your expectations.  No one wants to lower their expectations; that's like giving up.  There is a better way.
A Larger Company
To grow your company, your compensation plan should be designed to motivate and reward specific behaviors. In all, there are 12 of them.
If your plan isn't producing the results you expect, you either need to improve the plan or lower your expectations. No one wants to lower their expectations; that's like giving up.
More Recruits, More Sales
Direct selling companies depend on two activities more than any others. These are recruiting and selling.
Does your compensation plan support a recruiting culture? A recruiting culture consistently encourages and rewards early recruiting.
When companies drive recruiting through contests or incentives instead of through their compensation plans, people recruit only when there's something extra in it for them. This condition is one, unfortunately, we see too often in companies with compensation plans in significant need of improvement.
Are you requiring your independent representatives to meet personal sales goals? Having a compensation plan where personal sales requirements are absent truly isn't good for anyone. While you may feel like a nice guy for a little while, know this… Nice guys finish last in the race to grow direct selling companies.
Are you using wet wood to try to light your company's fire?  Dry wood burns faster.
Career Advancement
If you have a compensation plan, you should have career advancement expectations. Are your independent representatives progressing through the ranks of your compensation plan at the rates and in the timeframes you expect?
If not, why not? If you're not sure, why aren't you sure?
Lack of Leadership
Did you know that the greatest predictor of growth or contraction in your direct selling company for the next few months is the number of new first ranked leaders?
If you are not seeing the development of new leaders that you expect, something may be wrong with your compensation plan and/or your leadership development program.
Most often, the fix is a compensation plan change implemented with simultaneous changes to supporting processes at corporate and in the field that identify and nurture potential leaders.
Budget
Your largest expense is field compensation. Hearing this makes you want to lower it, doesn't it?
Not so fast.  While some companies choose to decrease compensation plan budgets with the goal to increase company pre-tax profits, others increase their compensation budgets specifically to grow company sales.  Do you know which is better?
When Should I Change My Plan?
You should consider compensation plan improvement when you can answer "yes" to any of the following statements:
Our plan is not producing desired results, and our desired results are reasonable.
Our business model is changing and the current plan won't fit where we are going next.
We want to increase (or decrease) our field compensation budget.
Some parts of our plan are illegal and we want our plan to be fully legally compliant.
Before Compensation Plan Improvement
Before a compensation plan is changed, it is important to do the following:
List the problems you wish to correct.
Identify the goals of compensation plan changes.
Request and obtain compensation plan performance data.
Review and analyze the data.
Let the data speak.
Whenever a compensation plan is changed, you have the opportunity to correct more than one problem. Don't squander this opportunity. View everything in the plan plus supporting processes in your business each as a puzzle piece that can be changed if needed.
Whether you choose to make all the necessary changes at once, or gradually implement them, is a decision that will be made during your compensation plan transition, a required step to minimize field discomfort during the compensation plan change process.
Brave and Smart
Don't be afraid of changing your compensation plan.  Instead, be brave and smart.  Enlist the help of MLM consultants and compensation plan experts like those at Sylvina Consulting who have helped hundreds of companies just like yours.