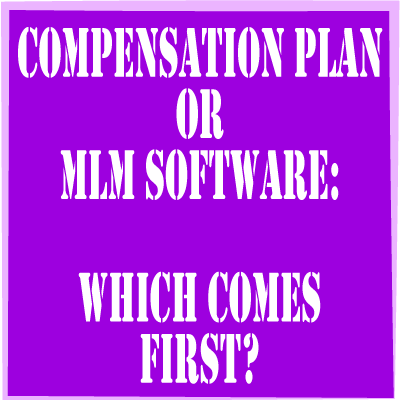 The answer may surprise you.  You know you'll need them both, but the order of acquisition matters.
If you contract for MLM software before your compensation plan has been designed, you may be diving into the water before you know what's in the lake.
There May Be Unwelcome Surprises
Watch our informative video below to learn why it is important to have your compensation plan designed before you acquire MLM software.
15-Steps To Compensation Plan Design
At Sylvina Consulting, we follow a proprietary 15-step approach to compensation plan design where each step is important.
Perform a client intake interview to ask questions to understand the client's business.
Request cost and pricing information to be able to calculate the average, group, and per item multipliers.
Work with the client to set a total field compensation budget, the largest piece of which will be compensation plan earnings.
Educate the client on compensation plan types so that the client can choose the type of plan that it likes best.
Present the 12 key compensation plan behaviors we want from an independent direct selling sales force.
Explain several recommended ways to motivate and reward each behavior.
Let the client select from the good choices we recommend to them for consideration, or collaboratively come up with new ways to compensate performance based on client input.
Create a technical design document that explains all of the business rules of the compensation plan for the software company.  This is not a one-page chart.  It is a 10-20 page document.
Model the plan in an Estimated Payout Spreadsheet to estimate the total payout at plan maturity.
If the total payout exceeds the compensation plan budget, adjust the plan requirements or rewards accordingly to reduce the total payout.
When the compensation plan design is approved by the client, send the technical design document to the client's MLM software company.
Answer the software company's questions on the plan and review the many versions of its specification document until their document is both accurate and complete.
Review the client's compensation plan field documents or create them for the client.
Audit the results of the first commission runs.  Report problems found to the software company and retest after fixes have been made.
Teach the client how to do the auditing themselves.
Our process ensures that a client receives a compensation plan that fits their business and the priorities of the owners.
About Compensation Plan Changes
Whenever a direct selling company is considering changing its compensation plan, there are reasons that this is happening.  Either there are problems that need to be fixed, or goals that need to be met, or both.
Answer This Question
Do you have compensation plan problems that need to be fixed or goals that need to be met?
Opportunity
Any time a direct selling company embarks on a project to amend or replace its compensation plan, there is an opportunity to drive the business forward faster.  As with all the best opportunities, there are risks associated with them.
Do you have a simple compensation plan that is not working as well as you'd like to grow your company?
Have you considered that perhaps you have made one or more compensation plan mistakes?
Step One:  Free Compensation Plan Review
Ask Jay Leisner, the president of Sylvina Consulting, for a free compensation plan review.
Jay teaches compensation plans at the Direct Selling Edge Conference, the only two-day school for new and established network marketing and party plan companies.
More than just a compensation plan expert, Jay is exceptionally skilled at advising new and established companies on business strategies. Before offering advice or solutions, he asks important questions to understand each client's specific concerns and goals.
Jay is also a great teacher. He wrote the powerful 250-page book for new and young network marketing and party plan companies, Start Here: The Guide to Building and Growing Your Direct Selling Company.
You don't know what you don't know.  We can help you with that.  Without this book, you may make costly mistakes.  Our "Start Here" guide will save you both money and time.
Simple Compensation Plans
Did you know that simple plans wound and kill companies?  Sharing this information is important to me, because of our company's mission of education.
Our Mission:  We educate the owners, management teams, and independent representatives of direct selling companies with information, wisdom, and solutions to improve the health and stability of their businesses.
Lack of Depth
Simple plans pay on just a few levels of downline volume.  How many is too few?  I would say a plan that pays less than five levels deep is a simple plan.
Only Pay By Level
Many simple plans also pay only by level.
A level is a positional relationship between two independent representatives in the same leg.  While paying by level is good, a compensation plan that pays only by level is too simple, which is bad.
Not Using Compression Properly
Compression is a term used to describe the action of bypassing inactive or ineligible independent representatives when determining rank qualifications and/or compensation plan earnings.
Simple plans are ineffective in their insufficient use or overuse of compression, or in their decisions to use the wrong type of compression.
For more info about compression, read my article Compensation Plans: Focus On Compression.
Insufficient Recognition
Simple plans often have too few compensation plan ranks and/or the requirements for the ranks are not set properly with full consideration with each other.
Not Measuring Volume and Structure
Volume requirements are absolutely necessary for multilevel compensation plans.  Simple plans frequently have volume requirements which are either too high, too low or both.
While volume is king, structure is queen.  Structure requirements help representatives to meet volume requirements.  Simple plans commonly lack structure requirements.
Did you know that structure requirements lead to more relationships between leaders because one can't promote to higher titles based purely on volumes?  Leadership development helps to grow direct selling companies faster.
While you can't pay people 50 different ways, great compensation plans pay representatives 6 to 12 different ways.
Many simple plans include only a handful of ways to earn money.
Assuming Identical Performances
Some simple plans are based upon the assumption that if everyone recruits so many, then everyone will get great compensation.  The truth is that this conclusion is a myth.
One of the reasons people design simple compensation plans is that they are unaware of the 12 essential behaviors that all multilevel compensation plans should motivate and reward.
Simple compensation plans cannot encourage and compensate independent representatives of direct selling companies for the activities we want them to perform.
Evaluate Your Plan
I encourage you to evaluate your compensation plan using the features listed above.
If any of these features describe your compensation plan, let's talk.  The last thing you want your simple compensation plan to do is to wound or to kill your company.
Compensation Plan Review
At no cost to you, find out if your compensation plan is in good shape, or if it needs to be improved.  Ask the experts at Sylvina Consulting.
The best time for a Compensation Plan Review is before you obtain MLM software, but even if you already have software, you need to know if your plan has major or minor problems.
It's Your Largest Expense
As a network marketing or party plan direct selling company, your largest business expense is or will be field compensation.  It's larger than employee salaries, rent, monthly MLM software hosting fees, and all other overhead combined.  Always remember that.
You can't afford to pay for the wrong behaviors while not rewarding or skimping on the right ones.  However you pay, it's important to spend your money wisely.
What Is A Compensation Plan Review?
A compensation plan review is an assessment of a compensation plan's strengths and weaknesses, performed by direct selling compensation plan expert Jay Leisner.
Jay has advised network marketing and party plan direct selling companies for 25 years.  More than just a plan expert, Jay mentors Sylvina clients in all areas of their businesses.  Before offering advice or solutions, he asks important questions to understand each client's specific concerns and goals and he listens to the answers.
Jay will read your entire plan document with a focus on both legal requirements and the 12 essential behaviors.  He will tell you his concerns and recommend solutions to improve your plan.
Don't leave your future to chance.  Ask the expert; then decide what you'll do next.
How Do I Get One?
Very easily.  You can have your compensation plan reviewed at no cost to you.  Call Sylvina Consulting at 503.244.8787, text Jay at 503.784.7873, or fill out this form to request a compensation plan review.  You'll be glad you did.
Conclusion
Have your compensation plan professionally designed before you get software.
For more information about MLM Software, request our free 25-page E-Book, MLM Software: What You Need To Know.