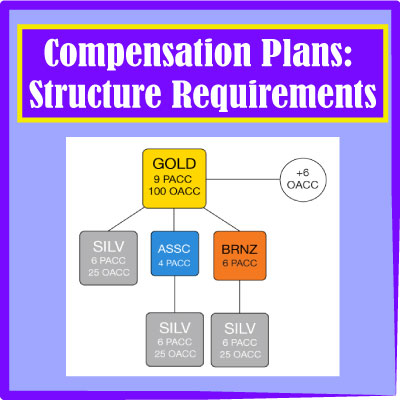 In compensation plans, there are positions of achievement we call titles or ranks. To qualify for them, independent representatives meet volume and structure requirements.  Both are measurements of organizational performance.
Volume Requirements
A volume requirement is a measurement of volume from (a) an individual independent representative, (b) a group of independent representatives within one's downline, or (c) all independent representatives within one's downline.
Compensation plan requirements usually include several types of volume requirements.  This is because sales volume is king.  Direct selling companies are in the business of selling products or services, the more the better.
Compensation plans reward independent representatives primarily based on the sales volume generated by their downline organizations.
If you want to learn about the power of group volume, read Why Have A Group Volume Requirement.
Structure Requirements
A structure requirement is a measurement of a count of people in one's downline who has met volume requirements and often structure requirements, too.  A structure requirement may be a count of active personally enrolled representatives, active paid-as legs, or a combination of both.
While volume is king, structure is queen.
Why Structure Matters
Interestingly, structure requirements help representatives to meet volume requirements.
When a compensation plan includes structure requirements, to promote to the next title downline representatives are forced to pay attention not only to the total volume below them but also to the counts of people in their downlines, usually people with specific paid-as titles.
Structure requirements incentivize representatives to help up and coming people in their downlines to build their businesses bigger because, in order for an upline representative to promote to the next title, people below them need to promote higher first.
When structure requirements are present in a compensation plan, you can't promote to a higher title based purely on volumes.  Structure requirements lead to more relationships between leaders, and leadership development helps to grow direct selling companies faster.