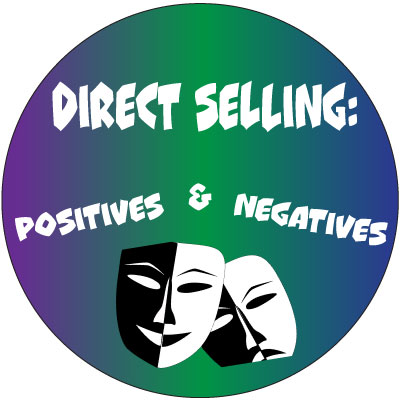 Whenever I need to make an important decision, I look carefully at the positives and negatives.  Analysis is a skill we use every day when we serve the needs of our clients, both startups, and established direct selling companies.
If you are thinking about starting a network marketing or a party plan company, you might be wondering why you should do it, or perhaps why you shouldn't.
Positives
Here is a list of five advantages you'll have if you use the direct selling distribution channel:
You will know the identities of all of your salespeople.  In traditional distribution, you only know to whom you sell your products.  Those people are likely middlemen and middlewomen.  The closer you are to the end consumer, the better job you can do in serving them.
Your independent representatives will enroll in the next representatives. This means once you have momentum in recruiting, your company won't need to recruit anymore.
This is an economy of scale business.  This means the larger your sales grow, the more profitable your business will be, not just in terms of total profit, but more importantly in the percentage of profit, you'll earn.
The direct selling channel is perfect for introducing additional products.  Your sales reps can leverage the relationships they've built to sell more products to their customers as you make them available.
The most important factor in the resale value of a business is the identity of the end consumers.  If you build your business the right way, you will know the identities of ALL of your end customers.
Negatives
Every silver lining has its cloud (or something like that).  Here are just three negatives you'll need to accept and then move on.
To survive, you will need to have recruiting momentum.  If you are not growing, you will be shrinking.  There is no standing still in direct selling.
You need to accept that not everyone will like you and your type of business.  If you want to be liked by almost everyone, open a candy store.  If you do that, you won't make a lot of money, however.
This is a one-pedal vehicle.  The only speed control you'll have is a foot break that you can use to slow down or stop recruiting.  Most companies never need to use it, however.  Your growth rate can be crazy (1000% in one year anyone?), but it will likely be closer to 300-500% annually if you're on the fast success path.
Education First
Sylvina Consulting is in the business of direct selling education.
In addition to our consulting services, we offer both a direct selling startup guide and a two-day direct selling school for owners and employees of new and young network marketing and party plan companies.