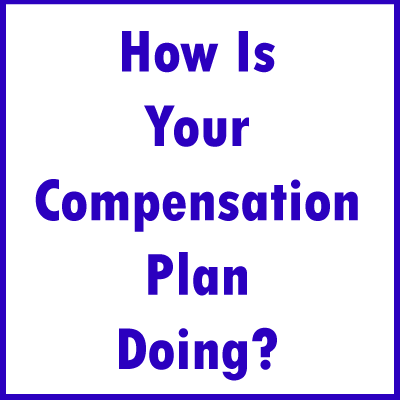 How is your compensation plan doing?
If you quickly answered "fine," how do you know?  If you answered slowly or not at all, perhaps you're not sure.
In this post, I will share with you some tips on how to evaluate the performance of your plan.  This is important because your largest expense is field compensation.  Getting the biggest bang for your buck should be a top priority.
Expected Results
The quickest way to ascertain the health of your comp plan is to answer only one question:
"Is your compensation plan producing the results you expect from it?"
If you answered "yes", this means your expectations are being met, but it doesn't mean necessarily that your plan is doing a good job.  It's possible your expectations are too low and your sales force performance is equally low.
If you answered "no", your expectations are higher than the performance of your sales force.  This could mean that your expectations are unrealistic, your compensation plan may not be motivating and rewarding the 12 essential behaviors, or both may be true.
If you're unsure, it could be because you are not measuring the results properly, or perhaps you don't have expected results.  In either case, we recommend a compensation plan evaluation to help you to answer this important question.
Driving Behaviors
Compensation plans should be designed to motivate and reward specific activities.  The best way to assess how your compensation plan is doing is to measure it in light of these 12 essential behaviors.
You may be surprised to learn that even the largest network marketing and party plan companies discover important facts about their compensation plans when an analysis is performed on the results.
Direct selling companies of all sizes see improvements in sales and recruiting when their compensation plans are improved.
The budget you've allocated for field compensation, as a percentage of sales volume, needs to be spent wisely.
To begin, you must ensure that there are early opportunities for new representatives to make enough money to compensate them for their time and effort in selling your products or services and recruiting and training others.
Business builders must be rewarded for building teams.  Just as individuals should be measured by their personal sales productivity, the sales volume produced by a team should help to determine the rate of compensation for the business builder.
Leaders should be rewarded for identifying and nurturing potential leaders on their teams, even if the potential leaders are not personally sponsored.
The compensation plan's title promotion requirements should be set in line with your target goals for the percentage of people you wish to attain them.  The higher a representative climbs in title, the more challenging the requirements should be to promote to the next title.
Higher titles can offer larger bonus percentages and/or new bonuses not provided to others.
Each type of commission or bonus should reward at least one of the behaviors listed above.  Similarly, each behavior should be rewarded by one or more types of compensation.
For example, Fast Start Bonuses often reward behaviors #1-4 by incentivizing the recruiting of representatives who generate personal sales volume.
Whenever possible, eliminate paying twice for the same behavior.
To be effective at helping to grow your company, your comp plan must include both volume and structure requirements.
The End Game
When you're asked how your plan is doing, your answer shouldn't be "fine."  It should be "Great because it produces the high results I expect and motivates all the right behaviors."
For help to improve your compensation plan or other aspects of your party plan or network marketing company, call us at Sylvina Consulting at 503.244.8787 or request a call from us here.