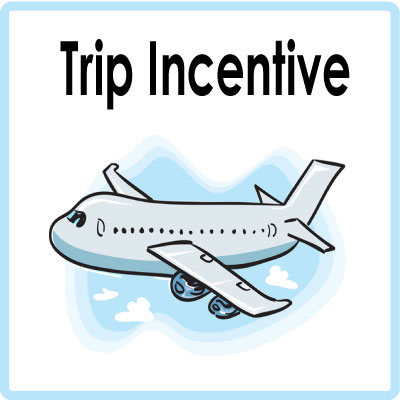 People are motivated not only by money.  Trip incentives encourage representatives to work hard for the recognition earned for achieving a specific goal.
What Can You Do?
Trip incentives are vital to keeping your most productive representatives excited and focused.  Trip incentives can be great motivation tools and often a company will see a measurable increase in sales during the qualification period.
Watch the video below to learn about trip incentives, and what the ideal amount of time is for the qualification period.
Field compensation should include both money paid through your compensation plan and recognition.  Incentive trips are one category of recognition for both party plan and network marketing companies.
Planning Your Trip
In designing an incentive trip for your direct selling company, consider the following:
1. Decide in advance how much you will spend on the trip. Your budget should be set based on a percentage of last year's total annual sales volume (if you were in business last year) or using this year's expected sales volume if your company is new.
2. Decide how many people you want to earn this trip.  Also, decide on the number of corporate staff members to attend. Add these numbers together.
3. Divide the total number of people into the budget to arrive at the budget per person.
4. As for destinations, it all depends on the time of year and your budget per person.  Florida is expensive in January but cheaper in summer. You may need to decide between having a higher class trip to a less glamorous location, or vice versa.
5. Someone will need to manage the travel details.  It can either be you, an employee at your company, or a third-party travel company.  Be aware that travel planning companies typically have minimum fees per trip.  If your business is relatively small, this trip may cost too much to have a travel company manage the process for you.
Avoid This Mistake
Don't make the mistake of offering a trip incentive to only the top 10 performers.  For a trip incentive, it's better to set specific requirements.
For help designing the qualifications for your next trip incentive, contact us at Sylvina Consulting.
Recognition Rules
Do you know about the rules of recognition?
Offer praise early and often.
Begin with new representatives.
Define one set of achievements that are worthy of recognition for new representatives, a second set for potential leaders, and the third set for leadership.
Set the perceived value of each reward as commensurate with the recognized achievement.
Name the achievements you will recognize using words that are specific to your company's culture.
Recognition isn't a secret! Publish the specifics of your recognition programs to your representatives.
Make recognition public!  Announce these achievements in the company's monthly newsletter or magazine.  Also, announce achievements at meetings and on conference calls.  Call on some of the achievers to share what they did to achieve the goal.
Highlight the most difficult of the achievements on your company's walls with photographs of the achievers.
Have the company owners or top management personnel make telephone calls to recognize some of these achievements, too.
Design contests that encourage and reward extra efforts at personal recruiting, personal sales, team development, and team sales.
Resist the urge to limit winners of a contest to the "top 10" or top any number.  If your contest benefits only your top performers, most everyone else will decide not to even try to attain the goal you've set.
Instead, set specific goals with equally specific rewards.
In addition to rewards offered through contests, bestow attractive and memorable awards to representatives who achieve compensation plan goals, including promotion to some or all of the titles in your compensation plan.
Budgeted Recognition
Recognition, awards, and incentives are each vitally important to the success of all
direct selling companies
.  Direct selling companies spend between 3% and 8% of sales on these items.
While this percentage is small relative to a compensation plan payout percentage of 38-60% of sales volume, recognition is equally important to your sales representatives. For this reason, it should be equally important for you, too.
Recognition Beginnings
New companies and small companies don't have the budgets to send their representatives on lavish cruises and trips offered by larger companies.
You can begin with recognition initiatives like exclusive logo clothing (not available for purchase; you can only win it!), "dinner out with the owners", or an airline ticket up to $500 anywhere in the country.
Remember to take both still photographs and videos of your representatives at events where achievements are recognized, as these will be treasured memories not only for them but also for you.
Plan Ahead
Representatives often compare this year's incentive trip to those of previous years.  Many expect the current incentive to be even bigger and bolder than the last one.  Be aware of these tendencies.  Don't do something once that you are unwilling to do again.
Go For Sticky
If you own or are employed by a network marketing or party plan company, one of your primary goals should be to attract and retain your independent consultants.
Direct selling consultants are not employees who report to work each day with regular contact with their supervisors.  They are independent contractors who are operating their own businesses.  All of what they do is truly up to them.
So, you must find ways to encourage them to stay in the game.
Money paid through your multilevel compensation plan will help to keep your consultants active, but by itself, it is not enough.
Remember, they are volunteers!  To stay engaged, volunteers need recognition.
From a corporate direct selling perspective, the purposes of recognition are to reward behaviors that we wish to become repetitive, to increase activity, to decrease attrition, and to help build a culture of personal development.
All of these purposes serve the greater goal of increasing "stickiness", another word for keeping more of your consultants in the business longer.
Experience Recognition
For every 100 people who enroll to participate in your income opportunity, how many do you wish to experience company recognition?
Now I'll tell you what I think.  I recommend that your goal be to have at least 50% of your consultant's experience company recognition.
What Should Be Recognized?
The short answer is anything that the achiever believes is worthy of acknowledgment.
For the long answer, have a look at a portion of my list of 50 recognition measurements:
Attain a specific career personal sales target
Achieve the first Fast Start goal
Achieve the second Fast Start goal
Achieve the third Fast Start goal
Achieve the fourth Fast Start goal
Beat your previous personal best in monthly personal sales
Beat your previous personal best in monthly group sales
Have an annual anniversary
Have a birthday
Recruit your first consultant
Recruit your second consultant
Recruit your third consultant
Promote to new title or rank in your compensation plan
Promote to a specific new title or rank faster than anyone else previously
Recruit a specific number of consultants in your career
Did you know that the average direct selling company spends 30-50% of its sales on compensation plan rewards?  How much each company spends depends on two factors:  its multiplier and its desired pre-tax profit.
In addition to this expense, direct selling companies spend 3-8% of sales on recognition.  Recognition includes awards, contests, incentives, and national and regional conferences.
Don't make the mistake of trying to save money on your recognition budget.  Instead, endeavor to spend all you've budgeted with the goal to maximize the impact of your spending.
Are Contests Good Or Bad?
Contests are problematic, because….
There are no specific goals.  People don't know what they have to do to win.
There is no way to measure if you are on track to win.
You cannot be certain if you won until the contest is over.
There are disincentives to collaborate with other top performers because it's a competition.
In a top 10 contest, if you are #11 you lose, even though your performance was excellent.
On the other hand, contests do have their good points.  These are:
The company knows how many winners there will be, so they will know the cost of the rewards for the contest in advance, and the CFO is feeling pretty good.
The company knows how many hotel rooms to book, and the travel planner is happy.
The company knows how many employees need to attend based on the known number of winners, so they can plan now for their absence.
Whenever a direct selling company runs a contest, they will have a group of top performers they've made very unhappy.  That doesn't seem so smart to me, especially since they are volunteers!
Interestingly, each contest or incentive should be designed with consideration of several of the 12 behaviors, but not all of these behaviors. While great compensation plans are always complex, recognition programs need to be less complicated.  
Steps To Design A Contest Or Incentive
Review the 12 salesforce behaviors.
Select the specific behaviors to be motivated.
Determine the achievements to be rewarded.
Identify how to reward each one of them.
Consider weighting if multiple achievements are to be measured.
Evaluate past periods to see how many winners there would have been, who would have won, and what would the cost of the rewards have been.
If there are too few winners, reduce requirements to generate a new data set based on history.
If there are too many winners, increase requirements to generate a new data set based on history.
Review the new data sets and adjust requirements until you have a data set with the desired number of winners and costs for rewards.
Adjust requirements upward a bit, assuming that achievers will do more to get the rewards.
Consider including two sets of requirements, one for new consultants (who are in the business for less than one year when the contest or incentive begins) and another for older consultants.
Design your contests and incentives in groups, not just one as an island program.
Prepare IT data tracking requirements.
Determine the exact data to be shared with (a) the company and (b) your consultants.
Identify redemption tracking requirements.
Monitor the results and compare them to other periods of time using your Key Operating Indicators.
Don't be afraid to introduce new elements if the old ones aren't working, or if you believe something different will be better.
If your consultants recruit only when there is something special in it for them that is not always present, you have a big problem.  Your compensation plan is not adequately rewarding the recruiting behavior.  Don't attempt to fix a recruiting or selling problem with a contest or incentive!
To grow quickly, you need to have a recruiting culture.  To have one, include in your multilevel compensation plan the same great rewards for recruiting new consultants when these consultants become "qualified" (meet a specific target).
Common Recognition Mistakes
Here are the most common mistakes that direct selling companies make when it comes to recognition:
not having a complete recognition strategy
not offering enough forms of recognition
not setting recognition participation goals
not spending enough on recognition
not providing enough zero cost or low-cost recognition awards
the compensation plan does not motivate and reward recruiting sufficiently.
early-career achievements are not recognized
achievements are not published publically
too many contests and too few incentives
offering lucky draw contest rewards
not having leadership meetings or leadership trips as rewards
not tracking progress toward rewards when the company has the data to do so
not sharing progress weekly with consultants before a program ends
not providing details of achievements and progress to leaders to share at team meetings
not videoing trips or meetings
not using video content properly
not calling new consultants to welcome them aboard and to answer their questions
not calling consultants to congratulate them for specific achievements
not recognizing consultant birthdays and work anniversaries with a recap of personal achievements
While your expenditures on recognition are small compared to what you pay through your compensation plan, remember that recognition is equally important to attract and retain your independent consultants.
All recognition programs should be designed to fit your business model and compensation plan.
Don't "set it" and "forget it".  Just as compensation plans need to be refreshed from time to time, so do your recognition programs.