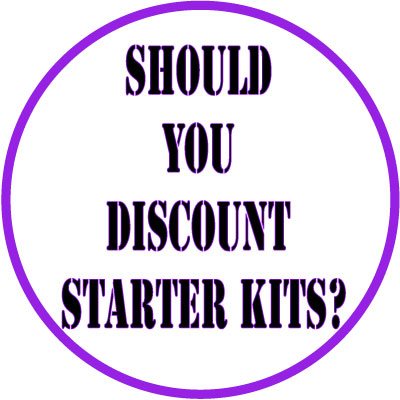 Some companies choose to put their starter kits on sale from time to time, hoping that the substantially reduced price will motivate prospective representatives to enroll during a starter kit sale.
Unfortunately, starter kit sales do more harm than good.
Here's Why
Many people who purchase starter kits on sale join for product discounts only.  If a company doesn't want people to join just for product discounts, this is a problem.
The career productivity of people who purchase starter kits on sale is less than those who pay regular price.
The bigger problem with putting starter kits on sale is what happens when the sale is over. Recruiting plummets for one or more months. Reps who sponsor may come to believe they should recruit only during starter kit sales.
Like the cars for clunkers program, what appears at first to be a good idea is actually a bad one.  I don't recommend that starter kits are ever put on sale.
Starter Kits: Content And Pricing
Starter kits are important.  A starter kit should not be just a box of stuff you are sending to new representatives.  What you put in them, how much you charge, and how they look when they are opened, matters.
Kit Options
Before we discuss what should go into a starter kit and how you should charge for a kit, let's talk strategy.
You can choose to offer only one starter kit, or provide choices by offering optional higher-priced kits.  If you decide to offer choices, don't offer too many because too many choices make it difficult for people to make a choice.  We suggest a maximum of 3 starter kit options.
Business Opportunities
In 23 states, business opportunities are strictly regulated.  To avoid being subject to business opportunity regulations, price your least expensive starter kit below the lowest threshold dollar amount for states which is $200.
Also, be sure to be mindful of the states which include required payments over one's first six months as subject to the threshold.  The price of your least expensive starter kit plus all required payments for the first six months should total less than $200.
Contents
The primary purpose of a starter kit is to get your reps off to a good start.  Starter kits usually include training materials, sales aids, and product samples.
Think about what your reps absolutely need to have to be successful, and be sure to include these items in your basic starter kit.  Anything that isn't essential, but would be nice to have, can be included in your higher-priced kit options.
If yours is a party plan company, we recommend that you include enough supplies and product samples to conduct at least 3 home parties.
The most important item in your starter kit is clear instructions on what tasks new reps should do first and when they should be done.  Don't assume they know what to do after they open the box.  They don't know unless you tell them.
Some companies decide not to ship a starter kit to their new representatives.  Instead, their kits are "virtual" which means you can read all the training materials online, and print off forms and brochures from the website.
If the product or service you are selling can't be delivered in a box, this may be the reason you are thinking about not shipping a kit. However, this is not a reason not to ship a kit.  You can still include training materials and sales aids in your kit.
Consider this… The more you communicate with your reps, the more engaged and invested they will be in your income opportunity.  If you choose not to ship a kit, you will lose the opportunity to communicate with your newest reps in this tangible manner.
Pricing
It is recommended that you price your required starter kit just above your cost.  This will be important if you choose to join the Direct Selling Association as their Code of Ethics for all members includes a provision that starter kits are sold "at cost."  For this calculation, the cost of your starter kit can include warehousing space and labor for kit assembly and shipping.
Set the prices of your required starter kit with consideration for the appropriate barrier to entry for your income opportunity.  Most direct selling companies generally charge between $0 and $200 for the required starter kit or enrollment fee.
We don't recommend charging $0, because while it will be very easy to recruit when it costs nothing, people who pay nothing generally do nothing.  It's important to have "skin in the game."
The Alternative
Instead of putting your starter kits on sale, add an additional item free during those months when you would otherwise put your kits on sale.  To prevent your reps from having a dependency on starter kit promotions to motivate recruiting, we recommend no more than two such starter kit promotions per year.
Conclusion
Treat your starter kits with the same care as your primary products.  We say starter kits are your secondary products.  Product development applies to starter kits, too.
Sylvina Consulting designs, reviews, and improves
Budgets
Marketing Plans
Strategic and Operational Plans
Training Materials
We also provide:
Software Consulting
For technology needs, Sylvina performs MLM software consulting services, including
Best Startup Guide
For new and young party plan and network marketing companies, we offer our powerful 250-page book, Start Here: The Guide to Building and Growing Your Direct Selling Company.
Are you seeking advice and help on an ongoing basis? Our monthly coaching and consulting program may be perfect for you.
Do You Like Choices?
Options are important when selecting a direct selling consultant.  That is why with Sylvina Consulting, you can choose by the project, our role in helping you as advisor or developer.
We offer hourly consulting, project-based consulting fees, and package discounts.
While meeting in person is always nice, travel is optional.  That means you can stay at home to meet with us.  We don't require that you come to us for the first day of consulting.  If you'd like to meet with us, we'll come to you!
Direct Selling Edge Conference
If you're looking to build your network marketing or party plan direct selling company faster, you need to be at the next Direct Selling Edge Conference.  It's coming up soon.
You may be asking yourself, "Why should I go to this conference?"  I'll tell you why…
Have you considered the power of just one new great idea?  One idea that you don't know just yet can make all the difference to your company.
At the Direct Selling Edge Conference, you'll hear two full days' worth of them.
Do you know 100% of what you need to know to have a successful growing company, or do you need to know more?  What are you doing to learn what you don't know yet?
About The Direct Selling Edge Conference
Held since 2011, the Direct Selling Edge Conference is a direct selling school for companies like yours.
Our faculty members drill down very deeply into the most important topics everyone needs to know more about.  Topics covered in depth include compensation plan design (two sessions), legal issues (two sessions), social media, recruiting, founder programs, project management, how direct sellers think, compliance, and software.
You will also have an opportunity to ask questions of our speaker panel where we answer as many questions as possible.
At the end of both days, there are two hours of private appointment times reserved when you can meet with conference faculty members.  This is free consulting for your company, with an added bonus of conference registration.
If you haven't yet attended one, you should attend the next Direct Selling Edge Conference!
Just A Few Attendee Comments
"The price of this event is a bargain.  I have paid thousands of dollars more to attend conferences that were less informative, less instructive, and less friendly."
"I went to another company's conference last spring.  I learned more in the first two hours of this conference than I learned in two days with the other one.  The content shared was detailed and specific."
"We have been in business for a few years.  This conference is a must not just for startups.  The quality and knowledge of this conference's speakers are simply amazing.  It blew my expectations!"
"The information presented at DS Edge was worth 10 times what I paid to attend."
"I came to this conference two years later than I should have.  Had I come two years earlier, I would have saved over $100,000 AND two years."
More Attendee Comments
Discover what others have told us about their Direct Selling Edge experience, here!