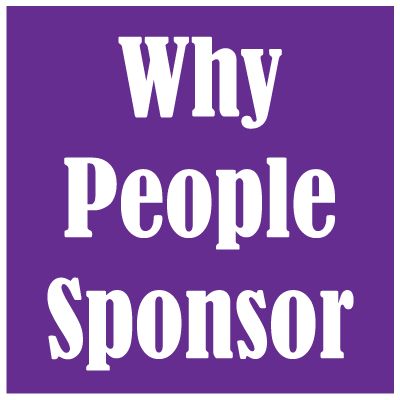 One of the most misunderstood behaviors in direct selling is the sponsoring behavior.
Sponsoring, also known as recruiting, is the introduction of a direct selling company to a prospective independent sales representative.
People choose to sponsor others when it is in their best interest to do so.
Why People Sponsor
Let's examine separately each of the motivations for sponsoring.
Want The Reward
First, sponsoring occurs when a representative decides that sponsoring is worth the effort.  When compensation is provided to reward the recruiting behavior, and the recruiter wants the compensation, he or she will sponsor.
Note, for legal reasons, we never specifically reward recruiting.  Instead, we reward the generation of volume that comes from the total of personal purchases by the new recruit and personal sales to non-participants in the compensation plan by the new recruit.
Asked To Sponsor
Sponsoring also happens when a representative is asked to be a sponsor.
Need For Title Promotion Or Title Maintenance
When a representative needs more active recruits to meet one of the requirements for title promotion or title maintenance in the company's compensation plan, sponsoring may be performed to meet that requirement.  A new recruit is needed when the number of personal recruits who are active is insufficient.
Need More Volume
When a representative needs more group or organization volume, one of the ways to get more volume is to increase the size of one's group by sponsoring more people.
Need More Legs
Structure requirements of a compensation plan motivate recruiting. When a representative needs to develop another leg of his or her organization with a specific paid-as title or higher, the only way to start a new leg is to sponsor a new person.
Sponsoring Is Rare
It comes as a shock to newbies in the direct selling channel when they learn that most representatives never sponsor anyone.
What is the percentage of your recruits who will recruit others?  The quick answer is between 4% and 50%.  That is quite a range, so let's narrow it down a bit.
Low Sponsoring (< 20%)
If your enrollment fee is low and you offer the best prices to your representatives, or if your kit is inexpensive but still it is an excellent opportunity to purchase products at a discount of 50% or more, you will attract what we call "kitnappers" who are really just customers. These people enroll specifically to get the products in the kit and/or because they want to be able to buy your products at the lowest price.
At the time of enrollment, kitnappers are not interested in the income opportunity.  While some later will decide to build a business, most won't.
When you have many customers enrolling as representatives, the percentage of recruits who sponsor others will be low.
Average Sponsoring (20% – 30%)
When the enrollment fee is high enough, the product discount is low enough, the kit contains products at a low discount, or if representatives and customers pay the same prices, the percentage who recruit will be more.
High Sponsoring (30% – 50%)
If your enrollment fee is high, the percentage who recruit will also be very high, but fewer representatives will be recruited because the barrier to entry is high.
Because the barrier to entry is high, the percentage who recruit at least one will be high because of the desire to earn back some or all of what was spent to become a representative.
Compensation Plan Mistakes
I have written extensively and recorded videos about compensation plans and compensation plan mistakes.
A less common but serious mistake is to require the sponsoring of new representatives as a condition of earning compensation tied to other non-sponsoring behaviors of the 12 essential compensation plan behaviors.
If my organization is large enough and active enough to qualify me for compensation and I am satisfied and don't want to achieve the next rank and I am not interested in the compensation offered to reward the recruiting behavior, I won't need to personally recruit another sales representative.  That is the promise of network marketing.  Don't break it.
When I choose to recruit will be up to me.  If I choose to recruit five people this month, or no people this month, it will be up to me.  Don't ever force me to recruit one person per month to qualify me to be paid at a specific a rank in the compensation plan or to qualify to earn a bonus that is not directly related to recruiting.  If you do that, I may slow my recruiting down to fit your timetable.  You really don't want me to wait to recruit anyone.  Let me choose when I will recruit again.
Don't judge the worth of leaders based upon how many new people they have recruited lately.  Instead, encourage sponsoring with compensation plan carrots, not sticks.  Don't forget to also use the carrots of recognition to help leaders to feel good about recruiting.
Learn More, Earn More
For more wisdom for you about compensation plans, I invite you to watch some or all of our compensation plan videos and to attend virtually our Compensation Plan Conference.
ABOUT JAY LEISNER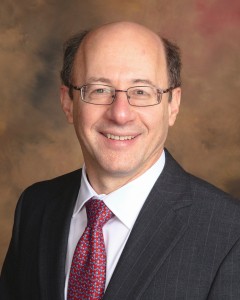 Jay Leisner, the President of Sylvina Consulting, is a top compensation plan and direct selling expert, a trusted adviser to new and established network marketing and party plan companies. For more than 30 years, Jay has enjoyed assessing and improving network marketing, party plan and referral marketing companies across the globe.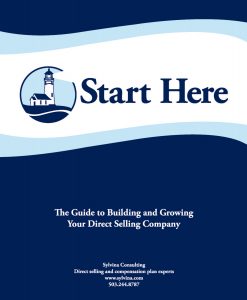 Jay Leisner and Victoria Dohr authored the top-rated book for new and young network marketing, referral marketing, and party plan companies, "Start Here: The Guide to Building and Growing Your Direct Selling Company".
Available in English and Spanish. This startup guide contains 250 pages of wisdom that will guide you through the right steps to start and continue on your journey to build a successful direct selling company.
You will save thousands of dollars and hundreds of hours of your time using the information you will read in our book.
In 1986, Jay began his career in direct selling by working for a major direct selling software provider. First as a software developer and later as a project leader and a business analyst, Jay worked closely with new and established network marketing and party direct selling companies to provide them with software solutions to meet their unique requirements.
Jay contributed in many ways to the success of large implementation projects for many companies. Jay also worked with dozens of smaller companies to assist each of them in various capacities to provide them with the systems they needed to help their businesses to grow faster.
Along the way while working with them, he learned the secrets of successful direct selling companies and the challenges faced by them. In true entrepreneurial spirit, Jay's decision in 1999 to start Sylvina Consulting as a direct selling consulting company was driven by what he saw was a need for answers, advice, and solutions.
In 2004, 2006, 2009, 2014, and 2018, Jay gave presentations on compensation plans, recognition, and field leadership development at conferences held by the US Direct Selling Association.
He traveled to South Africa in 2015, 2016, and 2017 to conduct workshops on compensation plan design and recognition programs for member companies of the South African Direct Selling Association.
In 2017, Jay spoke at the Canadian Direct Sellers Association Meeting on the importance of recognition.
More than just a compensation plan expert, Jay is exceptionally skilled at advising new and established companies on business strategies. Before offering advice or solutions, he asks important questions to understand each client's specific concerns and goals.
Subscribe for FREE to receive our monthly email newsletters.