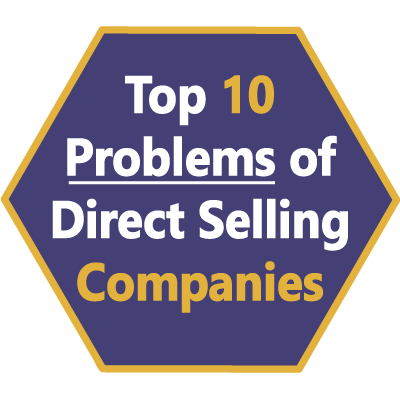 Direct selling companies face and conquer many problems as they launch, grow, and become successful enterprises.
As top MLM consultants, we have observed that there are 10 types of problems faced by network marketing, MLM, and party plan direct selling companies.
In this post, we will not only list them for you but also provide guidance on how to solve them. Here they are…
Type 1: Recruiting
(a) Train how to recruit
(b) Reward recruiting with sales-based compensation
(c) Encourage early recruiting with a Fast Start program
(d) Focus on recruiting with recognition
Type 2: Sales Productivity
(a) Train how to sell
(b) Reward selling through your compensation plan
(c) Encourage early selling with a Fast Start program
(d) Focus on selling for recognition
Type 3: Retention
(a) Start your retention campaign on day one
(b) Retain representatives through relationships
(c) Retain representatives with frequent and relevant communication
Type 4: Product Freshness
(a) Stage new product introductions
(b) Reformulate and improve current products
(c) Pay close attention to the product packaging
(d) Conduct product promotions
Type 5: Product Availability
(a) Minimize backorders
(b) Communicate status of backorders
(c) Offer relevant product substitutions
Type 6: Fulfillment
(a) Ship products quickly
(b) Measure and report fulfillment errors
(c) Use functional yet attractive packaging
(d) Insert "spotlights" that highlight individual representative achievements
Type 7: Training
(a) Use multiple mediums to train your representatives
(b) Measure the effectiveness of each training program
(c) Invite representatives to view company presentations
(d) Provide scripts to be used by representatives to train others
Type 8: Leadership Development
(a) Develop and implement leadership development programs
(b) Set percentage-based participation goals
(c) Measure participation, compare to goals
(d) Promote and recognize leadership achievements through your compensation plan and recognition programs
Type 9: Software
(a) Selecting a software provider is like choosing a spouse – choose carefully!
(b) Replace providers who won't build what you need
(c) Replace providers who don't share your sense of urgency
Type 10: Measuring the Business
(a) Use a full set of business performance metrics
(b) Measure your KOI's over time
(c) Compare your measurements to industry averages
(d) Adjust your business as needed to meet or exceed industry averages
Conclusion
Successful direct selling companies don't hide from their problems. They identify them, shine the light on them, and conquer them. For help conquering yours, contact Sylvina Consulting at 503.244.8787.