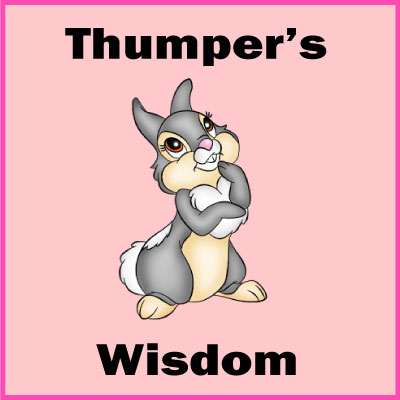 In the classic Disney film "Bambi", the rabbit Thumper offered some great advice. He said, "If you can't say somethin' nice, don't say nothin' at all."
What does this have to do with direct selling?  The answer is "a lot."
Something Good
When people join a direct selling company, they are in search of something and that something is expected to be good.
Good means positive.  The more you can be positive in what you say, the longer your people will stay as your representatives.  When what you say is negative, you chase people away.  Volunteers are the fastest to depart.  Don't forget that your representatives are volunteers.
Now, I know everything you say isn't positive.  Everything can't be.  Sometimes it isn't possible to convey a message in a positive manner.
That's why I've come up with a rule that I've named after Thumper.  I call it "Thumper's Corollary."  Here it is:
Whatever you say to the field, it should be stated in positive terms or neutral words. If you can't be positive, then your words should be neutral.  Do all you can to eliminate negativity.
As direct selling business consultants, one of the services we offer is a Business Performance Evaluation.  This service includes a review of all of the content that a party plan or network marketing company provides to its representatives.  More often than not, we discover bits of negativity that should be reworded.  Negativity encourages attrition and attrition slows down the growth of all direct selling companies.
So, when you are writing that next marketing piece, remember Thumper, Bambi, and Thumper's Corollary, and edit your words to be positive or neutral.
Direct Selling Edge Conference
If you're looking to build your network marketing or party plan direct selling company faster, you need to be at the next Direct Selling Edge Conference.
You may be asking yourself, "Why should I go to this conference?"  I'll tell you why…
Have you considered the power of just one new great idea?  One idea that you don't know just yet can make all the difference to your company.  At the Direct Selling Edge Conference, you'll hear two full days' worth of them.
Do you know 100% of what you need to know to have a successful growing company, or do you need to know more?  What are you doing to learn what you don't know yet?
About The Direct Selling Edge Conference
Held since 2011, the Direct Selling Edge Conference is a direct selling school for companies like yours.
Our faculty members drill down very deeply into the most important topics everyone needs to know more about.  Topics covered in depth include compensation plan design (two sessions), legal issues (two sessions), social media, recruiting, founder programs, project management, how direct sellers think, compliance, and software.
You will also have an opportunity to ask questions of our speaker panel where we answer as many questions as possible.
At the end of both days, there are two hours of private appointment times reserved when you can meet with conference faculty members.  This is free consulting for your company, with an added bonus of conference registration.
If you haven't yet attended one, you should attend the next Direct Selling Edge Conference!
Just A Few Attendee Comments
"The price of this event is a bargain.  I have paid thousands of dollars more to attend conferences that were less informative, less instructive, and less friendly."
"I went to another company's conference last spring. I learned more in the first two hours of this conference than I learned in two days with the other one.  The content shared was detailed and specific."
"We have been in business for a few years.  This conference is a must not just for startups.  The quality and knowledge of this conference's speakers are simply amazing.  It blew my expectations!"
"The information presented at DS Edge was worth 10 times what I paid to attend."
"I came to this conference two years later than I should have.  Had I come two years earlier, I would have saved over $100,000 AND two years."
More Attendee Comments
Discover what others have told us about their Direct Selling Edge experience, here!