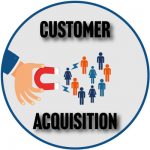 The hottest topic in direct selling today is customer acquisition.  It is now more important than ever before for you to have many, many customers buying your products who are not independent representatives of your direct selling company.


The Past Is Over
There was a time in the recent past where network marketing companies sold most of their products to their independent representatives for their personal use and this was not a problem.  Back then, no one worried about having customers who were not representatives.
The U.S. Direct Selling Association had lobbied hard to include in their definition of "ultimate consumer purchases" the purchases by independent representatives for personal use in reasonable quantities.  A few legal cases against bad actors included mention of insufficient customer purchase activities, but there were no definitive cases that hit this nail straight on until relatively recently.
To learn more about why real customers are so important, watch our video at https://vimeo.com/392276652.
First Things First
Your compensation plan should be designed to support your business strategies.  One of your business strategies is your pricing structure.  Others are how strongly you will reward customer acquisition, customer volume, and customer retention.
Ask yourself and answer these important questions:
For the same products or services purchased, will representatives and customers who are not representatives pay the same prices or different prices?
Will customers who are not representatives purchase your products and services at the prices you've set for them?
Is your pricing structure reasonable for customers?
What are you doing to reward customer acquisition and customer retention?
What are you doing to reward representative acquisition and retention?
Customers Are Good For Business
My friend, direct selling attorney Kevin Grimes, says he knows a secret and that secret is that "customers are good for business."   He's right, but it's not really a secret.
Customers are also good for legal reasons because direct selling companies whose sales are made primarily to their independent representatives are at risk of FTC actions due to a lack of customers who are not representatives.  The Federal Trade Commission (FTC) sued Vemma in 2015 and imposed a settlement requiring that Herbalife restructure its business in 2016.
If you don't understand why these FTC actions should matter to you, read the importance of real customers to learn why.
Recommended Strategies
Here are my recommended strategies:
Sell products or services that people will buy even if they are not earning any money through your compensation plan.
Don't charge zero to be an independent rep with your company.
Charge an enrollment fee high enough to be a representative that people don't become representatives just for product discounts but be sure not to pay any compensation upon the required fee.
Do not encourage people to join your company as independent representatives just for product discounts.
Charge customers a fair price for your products or services.
The price could be the same as the representative price, or it could be higher.
Have a fully developed pricing strategy that addresses how to price for representatives and customers.
Use sticks or carrots to increase customer sales.
Be careful in how you incentivize sales to customers over sales to representatives or vice versa.
Value For Customers
The goal of every business should be to maximize the value of the average customer.  One of the best ways to do this is to reward your most valuable customers (or those who you believe will become your most valuable customers) with benefits not provided to other customers.
The benefits could include one or more of the following:
lower prices
lower shipping fees
free products
product credit
Customers And Representatives
When it comes to benefits, think of your representatives as customers who happen to sell and recruit.  Be sure to offer to customers who are representatives the same or better benefits offered to customers who aren't representatives.
Be Clear
If you use the term "preferred customer" or "VIP customer", create a definition for the term and use it in your marketing materials.  All special customers should know who they are.
Your Best Customers
You may have heard the statement that 80% of sales come from 20% of customers.  What does this mean for you?
It means that all customers should not be treated equally.  This concept is difficult for some people to understand because the direct selling business is often marketed as an opportunity for all to succeed, a level playing field that doesn't exist often in other life pursuits.
Your best customers for your income opportunity product are your top recruiters.  Your best customers for your products are often not the same people.
Like annuals in the plant world, if you ignore them for too long, they won't produce as well or as long.
Conclusion
If you're in need of help with your strategies for your compensation plan to motivate and reward customer acquisition or customer retention, contact us and we'll talk confidentially about your situation. Call, text, or WhatsApp Jay at +1 503.784.7873.