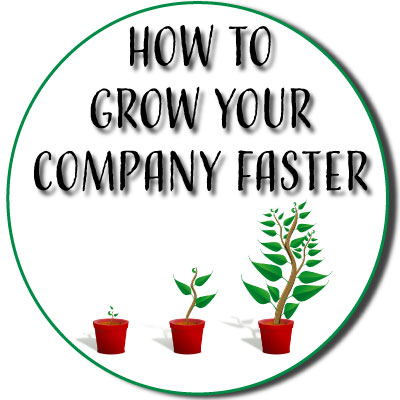 If you have a direct selling company, you probably want it to grow faster.  Faster means more reps, more sales, more sales per rep, and more retention.
So, how do you get all of these mores?  First, you need to be ready for growth.
How To Get Ready For Growth
Let's discuss products and services first, not just because it's a good place to start because without putting products and services first, you will not grow fast, or if you do, it will be for a short period of time.
Before you can grow faster, your company needs to sell products or services that your reps will buy even if and when they're not making any money. Preferably, your reps will purchase your products or services more than just once and they will also sell your products or services to retail customers, some of whom buy them more than once as well.
Second, your income opportunity needs to be engineered for growth. It needs to be designed thoughtfully and deliberately to motivate and reward handsomely (a) recruiting based on sales volume, (b) the efforts to build teams, and (c) leadership development and organization building so that all of your reps have the opportunity to generate part-time or full-time incomes or more.
If your compensation plan is lacking in any of the components necessary to motivate and reward the 12 essential behaviors of compensation plans, your company will not be ready to grow faster.
Third, before you can grow faster, your company and your independent representatives need to have functional and properly priced starter kits, selling and recruiting tools, and training.
Without these elements, recruiting and selling results won't be strong enough to give your company growth.
Recruiting and Retention
Companies that grow fast have high rates of recruiting and retention.
A high recruiting rate happens only when your products, income opportunity, starter kits, tools, training, and other elements of your business are in good shape so that you can develop a recruiting culture.  Without them, your rate of recruiting will be insufficient to grow your company faster.
Retention is equally important.  It is easier for your company to grow faster when your rate of retention is high.
Your Part
Are you doing all you can to get your company ready for growth?
Do you know if your company is really ready for growth?  Do you know what is stopping you?
It's one thing to want growth. Wanting it and being ready for it, are two different things altogether.
If you haven't had your company professionally reviewed in the last few years, it's time for a new evaluation.
Like a physical exam performed every two years, a direct selling business performance evaluation can provide you with knowledge of what's wrong and what you can do to fix those things now.
If you truly want to grow your direct selling company faster, you owe it to yourself and to your business to do all you can to get it ready for growth.
If you would like to know how Sylvina Consulting can help you do just that, then give Jay or Victoria a call at 503.244.8787.