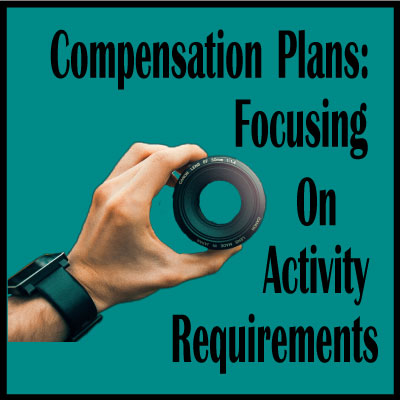 This is the third in a series of compensation plan articles, each of which focuses on one important element to be considered in the design or improvement of all multilevel compensation plans.
The previous articles in this series are Compensation Plans:  Focus On Compression and Compensation Plans:  Focus On Customers.
Why Are Activity Requirements So Important?
Activity requirements are important because direct selling companies want their independent representatives to continue selling (and optionally purchasing for personal use) the company's products and services.
Here is the relationship…
Activity Requirements = More Sales = More Profits = More Field Compensation
Don't be the nice company without activity requirements.  In this race, nice guys actually do finish last.  Without activity requirements, there are fewer sales, fewer company profits, and much less compensation paid to your sales force.
Compensation Is A Privilege, Not A Right
Remaining an independent representative of a direct selling company and being eligible for multilevel compensation are each privileges, not rights.  While rights are granted without conditions, privileges are earned by actions.
To Remain A Representative
To remain an independent representative of a direct selling company, one must either (a) pay a required monthly or annual fee and/or (b) generate a minimum amount of personal sales volume over a rolling period of time.   When this occurs, a representative is deemed "active."
Direct selling companies deactivate their representatives who do not meet the company's activity requirements for an extended period of time.
Click required or optional monthly fees if you're wondering what's best for your company.
To Earn Multilevel Compensation
To qualify to earn compensation upon the sales volume of other representatives, a representative must be "bonus qualified."
To be bonus qualified, independent representatives of direct selling companies are required to generate a specific amount of personal sales volume.  Sales volume is a measure of points given to purchases that help qualify an independent representative to meet personal activity requirements, rank promotion, and rank maintenance requirements.
Personal sales volume is the sum of sales volume generated from the personal orders placed by a representative and the orders placed by customers sponsored by a representative in one or more commission periods.
Don't make the legal mistake of confusing personal purchase requirements with personal sales volume requirements.  The difference is subtle but important.  If you don't know what I'm talking about, ask me.
The Principle of Cohesion
Cohesion is the action of forming a united whole.
Be sure to set your required monthly or annual fee policy, your activity requirement, and your bonus qualified requirement with consideration for each other.
If you're in need of help with any aspect of your compensation plan or policies and procedures, contact me and we'll talk confidentially about your needs.