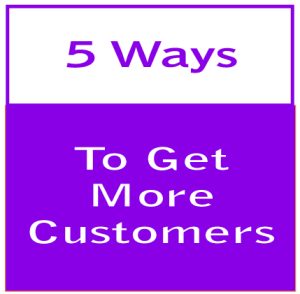 There was a time when network marketing companies sold most of their products to their independent representatives for their personal use, and this was not a problem. Back then, companies didn't worry about having customers who were not representatives.
Network marketing companies focused 99% of their attention on selling products or services to their representatives.  The products and the income opportunity were sold together.  For many years, this was a good strategy because it accomplished what matters most to companies – more representatives and more sales!
The U.S. Direct Selling Association lobbied hard to include in their definition of "ultimate consumer purchases" the purchases by independent representatives for personal use in reasonable quantities.  While a valiant effort, this strategy was ultimately unsuccessful in satisfying the Federal Trade Commission (FTC).
The FTC had a different viewpoint.  It sued Vemma in 2015 in part due to a lack of sales to customers and imposed a settlement requiring that Herbalife restructure its business in 2016.  If you don't understand why these FTC actions should matter to you today, you can read about the importance of real customers to learn why.
5 Ways To Get More Customers
In our work with compensation plan design and compensation plan improvement projects, we discuss the options clients have to increase sales to customers.  There are 5 strategies to get more customers.
Pretend like it's 2012 and don't worry about having enough sales to customers who are not representatives of your company.  Assume the FTC won't come after your company.  Hope they are busy going after other companies.
Pray for customers.  Every. Day. Pray.
Talk about how good it is to make sales to customers, but do nothing in your compensation plan to reward customer sales well or to require sales to customers.  This is talking without walking.  Some companies like this approach because they say it is better than #1 and #2.
Specifically motivate and reward well the sales to customers who are not representatives.
Require customer volume in your compensation plan to get paid.
What Do Most Companies Do?
Would you be surprised to learn that most companies like #1, #2, and #3 more than #4 or #5?
Talking about selling to customers who are not representatives is a difficult subject, because the desire is very strong to do nothing to change the business model of selling mostly to representatives.
A common objection to my strategies #4 and #5 is "my competitors aren't doing this."  This is true.  There are many companies still who are following strategies #1, #2, and #3.  It's easy to say approaches #4 and #5 are uncompetitive.
Legal Risk Vs. Business Risk
It is legally risky in the United States today to ignore the need for real customers.  Yet, changing the primary focus of your business and the businesses of your representatives from recruiting representatives to selling to customers who are not representatives is risky from a business perspective.
Like all things in life, there are tradeoffs.  What is more important to you today, being legally compliant or not changing your business model?
Take comfort in the fact that you are not alone in your struggle with this tradeoff.  But please, don't put your head in the sand by pretending it's 2012.  And don't use prayer as your answer for getting customers.  Also, don't just talk about the importance of getting customers.
Instead, be brave and choose from ways #4 and #5.  Here is some good news:
It doesn't matter whether you choose #4 or #5.  What matters are the results.
What Results Should You Seek?
Your goal should be to get at least 66% of your sales from customers who are not representatives of your company. Why 66%?  Because this was the benchmark the FTC used in the Herbalife case.
Don't make the mistake of counting customers instead of counting sales to customers.  In many companies, representatives spend more on products than customers, especially when representatives make larger purchases at the time of enrollment.  Counting customers may give you the false comfort that you're OK when you're not.
How Do You Get 66%?
Get the help you need.  Contact Sylvina Consulting to discuss how your company can motivate and reward customer acquisition and customer retention.  We are here.  Contact us so we may confidentially discuss your situation with you.