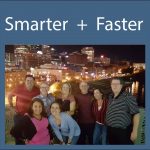 On your journey to build a great direct selling company, you will face numerous challenges.  To survive and prosper in this industry, your company needs to have an edge.
That is why in 2011 MLM Attorney Kevin Thompson and compensation plan expert Jay Leisner created the Direct Selling Edge Conference to provide you with action steps you can take to build your direct selling, network marketing, party plan, or social selling company smarter and faster.
Direct Selling Edge Conference
The 19th Direct Selling Edge Conference will be held on March 13-14, 2018 in Garden Grove, California. This will be our only California conference in 2018.
Individual tickets are $200 per ticket.  Tickets for 3 or more attendees are only $150 each.
We're proud of the faculty we've assembled at the conference. Take a few minutes to see what you'll learn when you attend a Direct Selling Edge Conference.
If you are starting a new or growing an established network marketing or party plan company, you need the information you will learn at the Direct Selling Edge Conference to grow your business faster.
Our faculty will teach you what to do, what not to do, and what you need to know to avoid making mistakes.  When you make mistakes, they cost you money and time. To grow faster, you need to avoid making them.
Just A Few Attendee Comments
"The price of this event is a bargain. I have paid thousands of dollars more to attend conferences that were less informative, less instructive, and less friendly."
"I went to another company's conference last spring. I learned more in the first two hours of this conference than I learned in two days with the other one. The content shared was detailed and specific."
"We have been in business for a few years. This conference is a must not just for startups. The quality and knowledge of this conference's speakers are simply amazing. It blew my expectations!"
"The information presented at DS Edge was worth 10 times what I paid to attend."
"I came to this conference two years later than I should have. Had I come two years earlier, I would have saved over $100,000 AND two years."
More Attendee Comments
Discover what others have told us about their Direct Selling Edge experience by more of our 86 reviews.
Direct Selling Edge Conference Website
Where can you go for the best education to learn what you need to know about starting or growing your network marketing or party plan company?  The answer is The Direct Selling Edge Conference.