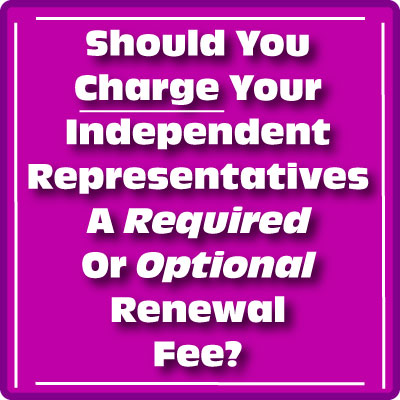 When it comes to charging your independent reps required or optional monthly fees, your direct selling company has choices.
This video is about these choices.  Shortly, I will explain the strategies and consequences of each one.
Why Charge A Renewal Fee?
Some direct selling companies charge their independent representative's annual renewal fees.  Each company that charges a renewal fee does so usually for one of the following reasons:
They provide their distributors with something of value, for example, a monthly magazine or a replicated website that they wish to charge them for, but not on a monthly basis.  So instead they charge them annually with a renewal fee.
They wish each distributor to make a conscious decision whether to continue doing the business, so a small renewal fee accomplishes this goal.
They wish distributors to help pay for the cost of providing customer service, so they charge an annual fee for "company services".
We recommend that if you charge a renewal fee, include something of value in exchange for it.  Don't just charge a fee "because" without explaining what is being paid for.
If your company charges a renewal fee, how much is it?
Wise Decisions
Now you know when it comes to charging your independent reps' required or optional monthly fees, the approach your direct selling company takes has consequences.  Choose wisely.
Don't forget that your MLM software will need to support whatever approach you choose.  If you need help making your choice, contact Jay at Sylvina Consulting by calling 503.244.8787 or by filling out this quick form.
Understand Why They Quit
Did you know that the average direct selling company experiences an annual retention rate of only 20% for new representatives?  It is shocking, but who wants to be average?  Wouldn't you rather your company be better than average?  You bet you would!
25 Reasons for Leaving
Here are some of the reasons given by departing representatives:
I thought it was going to be easier to make money and it wasn't.
I wasn't making enough money from my parties.  It turned out not to be worth the effort.
The products were costing me more than I was making each month.
Lack of communication from the company.
People didn't order due to the high shipping charges.
I changed my mind when my friends talked me out of it.
I found the products to be too expensive or my customers found the products to be too expensive.
The products were of low quality.
I couldn't recruit anyone.  I was afraid to ask others to join me.
My sponsor would not return my calls or could not answer my questions.
There were no training materials or the training materials were confusing or the training was incomplete.
I was waiting for someone to help me and there wasn't anybody.
It was too hard to get bookings.  My last two bookings were canceled because of the economy.
My sponsor promised me success and I didn't experience it.  My sponsor didn't put anyone under me.
The company didn't direct recruits to you until you had two of your own, which was difficult.  I didn't have two.
My products didn't arrive when expected.
I didn't have time I didn't have the energy.
I can't get anyone to go to meetings with me.
I didn't like the products.
I'm just not lucky.
I didn't realize it was going to take so long to start making money.
My spouse doesn't support me.  S/he thinks this business isn't worth my time.
My friends say it's a pyramid scheme.
Network marketing doesn't work.
I was putting in more than I was getting out of it.
Wow!
That's quite a list.  Are you feeling overwhelmed?  If I may, let me help by categorizing the reasons.  Each of the 25 reasons listed above falls into one of the following 5 categories:
Product quality/pricing challenges
Insufficient support, communication, and education from the company, sponsor, and uplines
Insufficient training and tools
Compensation deficiencies
Unmet expectations
Are you feeling better now?  If you are thinking you can work with the list of 5 categories, you're right.  You can.  You can address each of the "big" issues in your business.  There is work to be done, but it will be worth it.
The best direct selling companies have a retention rate of 60%, which is 3 times the average rate.  If you would like to know what they are doing to have such high retention, give us a call.  We'll share their secrets with you.