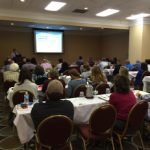 When is investing in your education smarter now than it will be later?
Answer:  When you can learn at half price!
Don't wait until September 1st or later to register to attend the 21st Direct Selling Edge Conference in Franklin (Nashville), Tennessee on October 11-12, 2018.
Why You Should Attend Direct Selling Edge
To learn what you need to do to have a more successful direct selling company

To learn what you don't know

To identify specific steps you can take immediately to grow your company faster

To improve how you operate your company

To relearn what you once knew, but forgot

To find out what you haven't yet done that you need to do right away

To collect buckets of wisdom to be used now and in the future

To discover what you have done wrong so you can fix these things

To learn what to avoid doing that would harm your company

To build relationships with top industry experts

To network with other direct selling companies

The more you know, the smarter decisions you will make.
Conclusion
The best way to build your direct selling company smarter and faster is to attend the Direct Selling Edge Conference.