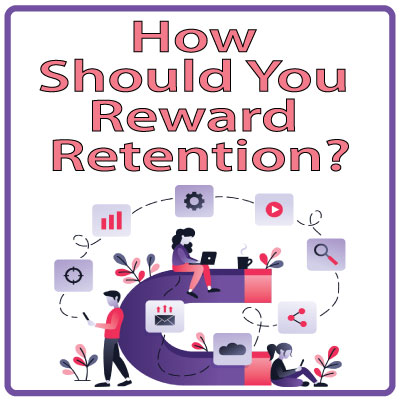 As a compensation plan expert, I've written extensively about the 12 key behaviors all compensation plans should motivate and reward.
The 12th behavior is staying active and engaged in the business.  This is retention.
What Is Retention?
At one of the Compensation Plan Workshops that I conducted in South Africa for direct selling companies, an attendee asked me how a compensation plan should specifically reward retention.  After answering the question, I realized that you, too, may be interested in the answer.
Watch the video below to learn more.
Retention Rules:
Retention starts with recruiting.  If your company isn't recruiting new representatives, your business will grow smaller.
Retention is just as important as recruiting.  Retention is keeping your recruited representatives active in the business as long as possible.  The impact of retention is huge.  Do you know the average rate of retention of direct selling companies?
According to the Direct Selling Association, the average direct selling company retains only 20% of those enrolled one year earlier.  This means if your business enrolls 1000 representatives in January, one year later only 200 will still be active (if your retention rate is average).
A retention rate of 40% is great, while a retention rate of 50% or more is outstanding!
Here are some steps you can take to improve your rate of retention:
Retention begins as early as the day the representative receives his or her starter kit.  Ensure that the kit provides a great first impression.
Within 24 to 48 hours of the receipt of the starter kit, follow up by telephone with each new representative to offer support and to answer any questions.  Demonstrate that your company truly cares about each and every representative.
Design your income opportunity so that it is as easy, fun, and lucrative as possible.  When an activity is easy and fun, people stick with it longer.
Not every sponsoring representative is a good trainer.  Do your part to fill in the gaps.  Offer company-provided training in multiple methods (including in-person training, telephone training, web training, and text-based training materials).
Listen to your sales force.  They'll tell you where they need help.  When you listen, your sales representatives will feel that you value their input.
Set weekly, monthly, quarterly, and yearly goals.  Most salespeople are very goal-oriented.  Goals give people focus.  Give your people focus!
Monetary rewards are great, but verbal and written recognition of achievements is just as important.  While you sell products and/or services, view yourself as being in the recognition business.  When you do this, your retention rate will improve appreciably.
The company's attitude is contagious, so have a positive attitude.  Also, show your enthusiasm and excitement.  People like to be around others who are enthusiastic.
Get out on the road!  You can't lead a national or global sales force if you're always in the office.  When company leaders travel to visit with the sales force, many good things come as a result, one of which is a higher rate of retention!
Make communication with your sales force a top priority!  Be consistent in your ongoing communication with your sales representatives.  Become the support system that can be counted on, day in and day out.
When you do your part to improve retention, you'll have happier independent representatives.  Happy independent representatives are more productive.  When they're more productive, they'll stay active longer.
Are you concerned about your company's rate of retention?
The Golden Rules Of Customer Retention
Golden rules are the rules you should follow.
You probably know this one: "Do unto others as you would have them do unto you."  However, when it comes to customer retention, the golden rules are different.
Everyone loves a good story, especially one that makes a point just like this one does.
A Tale of Unmet Expectations
You are in a restaurant.  You are served the wrong entree or the food you have ordered is cold or uncooked, or your server drops your plate on the way to your table.  Clearly, your expectations have not been met.
Besides bringing you a new meal, what should the restaurant do?
(a) nothing else
(b) server and manager each apologize profusely
(c) offer you an appetizer or a salad or something that can be brought out immediately while you wait and others at your table eat their entrees
(d) not charge you for your entree
(e) give you a gift card that can be redeemed on a future visit
When a customer's expectations are not met, an opportunity is presented to turn a previously satisfied customer into a fan or a critic.
The Golden Rules
Here they are: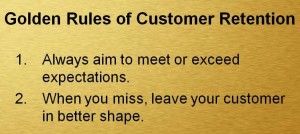 If your business was a restaurant following the golden rules of customer retention, you would offer at minimum offer items (b), (c), and (d).
Next Steps for Your Business
If you would prefer to gain fans instead of critics when you don't meet expectations, remember these golden rules and empower your employees to use them.
Conclusion
You don't want to give your representatives any reasons not to recruit, because they can't tell who will be successful in the business and who won't.  No one can.
If your compensation plan has volume and structure requirements, retention is rewarded in an indirect way.  The higher the retention, the less necessary it is to recruit.