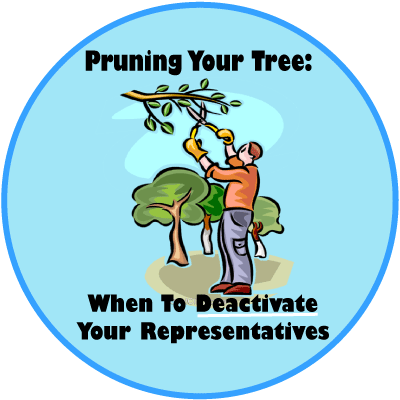 Terminations, deactivations, and reclassifications are all terms used to describe the process used by network marketing and party plan companies to end the businesses of their independent representatives due to insufficient activity.
Having consulted with direct selling companies for over 30 years, I have seen a wide variety of approaches used by direct selling companies to prune their trees.  Some policies are fully thought out, while others are based on faulty or incomplete reasoning.
Watch the video below to learn more.
Strategies Matter
However you craft your deactivation provisions in your policies and procedures, be sure you remember that your independent representatives are volunteers.
Would you like to know the reasons that direct selling companies like yours deactivate members of their sales force?  Would you like to know when they shouldn't?
Before discussing the "when", however, I would like to explain the "why."
Why Prune At All?
There are three reasons why the policies and procedures of direct selling companies include provisions to deactivate their representatives:
The first and most important reason is to clear out the deadwood.  Unless you remove those who are no longer active, the representatives who are building their businesses will see that a growing portion of their downline isn't doing anything.  This can be very demotivating.  To paint a prettier picture on reports and views of a downline, deactivation is advised.
The second reason to deactivate reps is to instill a fear of loss as a consequence of inactivity.  Multilevel compensation is a privilege, not a right.  In order to be granted the privilege, one must be active.
If a rep is not active in one commission period, he or she won't be compensated on the sales volumes of others for that one period.  However, if reps remain inactive for a number of consecutive commission periods, they should be deactivated and permanently lose their current downlines along with the privilege to be compensated for the organizations they've built.
For those who have not built a downline, the fear of loss is less important, but there can still be a small fear of loss if one loses the ability to purchase at the independent representative price when one is deactivated.
Reasons Not To Prune
Deactivating representatives to some may appear harsh or perhaps not in the company's best interest.  Here are the reasons that companies choose not to deactivate representatives:
The first reason is to be able to report a larger number of reps on the books.  Newer companies and those who have never deactivated their representatives want to be able to say they have a high number of reps because they want their companies to look as large as possible. Deactivation shrinks the count of people.
The second reason is the hope that inactive consultants will order and recruit again in the future.  The thought is if we deactivate them now, then for sure, they will be gone.  If we don't deactivate them, some will be active again.
The third reason may be to save money.   When deactivations occur, upline representatives may earn more money if your multilevel compensation plan doesn't include rollup.  Rollup is a feature whereby inactive and possibly ineligible representatives are skipped over when paying compensation upline.
Self Selection
Some direct selling companies impose mandatory monthly fees to remain an independent representative.  These companies use self-selection as the criterion for deactivation.  When a rep stops paying the required monthly fee, he or she will be deactivated.  Note, that the majority of direct selling companies don't take this approach.
When To Prune
In spite of the reasons not to prune that are cited above, all downline trees should be pruned, because the reasons to prune outweigh the reasons not to.  At this time, you are probably wondering how often to do it. Let's examine your options….
If you were to deactivate your independent representatives who were inactive this month, you would end up deactivating 25-50% of your sales force each month.  Don't do this, because not everyone sells or places orders every month.
If you were to deactivate your reps who were inactive or who had not sold anything or placed an order in the previous year or longer, you would not be doing a good job at "clearing out the deadwood" (you waited too long) or "instilling a fear of loss from inactivity" (those who haven't ordered or sold anything in a year or more have no fear of loss).
Most companies deactivate reps who have been inactive or who have not sold or placed an order for 3, 4, 5, or 6 months.  So, what is the right number of months to wait?
The right answer for your company should depend on the likelihood that your reps will sell, place an order or recruit another rep after 3, 4, 5, or 6 months of inactivity. Your key operating indicators should give you this data.  With this information, you can choose the ideal point when deactivation is advised.
Deactivation Consequences
What will deactivation mean for your representatives who are insufficiently active?
Will it mean….
they lose their downlines if they have one?
if they wish to rejoin, they will do so without their downlines?
if they rejoin, they must pay a reactivation fee?
they retain or lose the ability to order at the independent representative price?
they retain or lose any customer loyalty benefits gained while they were representatives?
Strategies Matter
We know of a direct selling clothing company that announced unless its consultants achieve a specific target in seasonal sales, they wouldn't be invited back to sell for the next season.  This was their deactivation policy.  It was a big mistake; the result was fewer reps and smaller sales the next season.
For other mistakes you don't want to make, read Direct Sales Tales That Teach.  For even more wisdom, contact Sylvina Consulting.