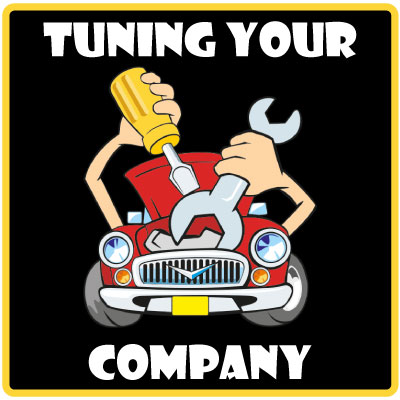 Like an orchestra, a direct selling company is composed of many instruments, each of which must do its part to produce the desired result, a symphonic success!
When one or more elements are in need of tuning, the performance of the whole company suffers.
Are your company's instruments tuned for success?
What are My Instruments?
In an orchestra, there are string, brass, woodwind, percussion instruments, and a conductor. When tuned properly and operated by skilled members, the instruments together make beautiful music.
Direct selling companies operate with instruments, too, where each is an important contributor. In many companies, these instruments are departments.
When tuned properly, the resulting output harmoniously produces the desired results. But how can you tell if tuning is needed?
This article provides you with important questions to help you to determine if the instruments of your business are tuned.
Communications
Responsibility – to transmit information in an understandable, professional, consistent, predictable, and timely manner to your independent sales representatives.
Do you provide all information using multiple forms of media?
Do you include answers to the most frequently asked questions in the information you provide to your sales force?
Do you communicate immediately with new representatives?
Do your starter kits explain what to do first?
Do you communicate regularly and predictably with all representatives?
Do you recognize the personal milestones of each representative?
Do you proactively reach out to the other departments of your company to identify information that needs to be communicated?
Representative / Customer Services
Responsibility – to respond competently, clearly, and quickly to requests for information from your sales representatives and customers.
Is the voice of your company in its materials positive, uplifting, and encouraging?
Do you measure the topics and numbers of calls, emails, faxes, and letters received from your sales force?
Is this information shared with Communications?
Do you measure the time required to answer telephone calls, emails, faxes, and letters?
Is the telephone answered within 30 seconds at least 90% of the time during your business hours?
Do you measure the productivity and effectiveness of each of your team members?
Do you survey your sales force and customers to obtain their perceptions of your responsiveness and the accuracy of information provided?
Product Development
Responsibility – to develop and/or source new products and to retire old products.
Are product development and product sourcing ongoing, predictable activities?
Do you follow a product release schedule?
Do you have and follow established criteria for product retirement?
Do you utilize a minimum cost price/selling price ratio?
Is the analysis of competitor products an essential step in your product development cycle?
Do you perform testing of new products before they are released to all representatives?
Do you have multiple sources of supply for each product sold?
Inventory Management
Responsibility – to monitor and maintain the minimal levels of inventory needed to meet product delivery promises.
Do you forecast demand for each product or obtain forecasts from another part of your company?
Do you have a minimum N-day supply of each item?
Are inventory turns measured?
Do you communicate abnormal stock levels (both high and low) to other departments?
Is analysis performed on the frequency of items purchased together?
Do you identify and implement changes to reduce costs and improve efficiencies?
Do you measure the value of aging inventory?
Fulfillment
Responsibility – to deliver ordered items in an efficient manner.
Do you follow guidelines for shipment of orders within N days of receipt?
Is department performance against these guidelines?
Do you measure the number of boxes and the number of orders processed each day?
Do you measure the percentage of shipments with errors?
Do you measure the percentage of late, lost, and misdelivered packages?
Do you negotiate with carriers to obtain the lowest shipping prices?
Do you use shipment documents to communicate representative-specific information?
Compensation
Responsibility – to offer a compensation plan that rewards well the desired behaviors of your sales force.
Have you identified the desired behaviors of your sales force?
Have you measured how your compensation plan money is being spent today on those behaviors?
Is your percentage of recruiters meeting or exceeding your company's goals?
Are your sales per representative meeting or exceeding your goals?
Do you measure the value of a representative over time?
Is your compensation plan free from flat spots?
Is your career path effective in developing leaders at every level?
Incentives and Recognition
Responsibility – to offer non-monetary compensation and recognition, beyond the rewards of the compensation plan, that motivates performance.
Have you established a budget for incentives as a percentage of sales?
Do you offer incentives with many types of rewards?
Have you divided this budget to support incentives of various durations?
Do you measure the effectiveness and incremental results of each incentive?
Is recognition a core activity of your business?
Do you teach recognition to your sales leaders?
Are your incentives and recognition programs designed to encourage the same behaviors as your compensation plan?
Events
Responsibility – to plan, organize, and manage the community experience at meetings, conference calls, and events to train, entertain and ultimately retain representatives.
Do you have an events schedule for your company?
Are the results from each event measured and compared to its cost?
Do you give your representatives more than one reason to attend an event?
Do you offer events to which representatives can earn full or partial registration?
Do you include recognition as part of every event?
Do you teach your sales how to conduct successful events?
Do you send all members of your management team periodically out on the road to attend events?
Finance
Responsibility – to establish and manage the systems and processes to safeguard the company's assets.
Do you create and use budgets to manage expenditures?
Are there incentives not to spend budgeted funds?
Do you actively manage the cash flow of the business?
Do you provide other departments with financial analysis to assist them in making business decisions?
Is fiscal responsibility promoted and rewarded?
Do you view Finance as a "service" department of your company?
Do other departments view Finance as a service organization?
Analytics/Forecasting
Responsibility – to establish, report, and perform analysis on the key operating indicators for the business.
Do you have a full set of key operating indicators for your business?
Do you report to your management team your key operating indicators on a monthly basis?
Do your IT systems do a good job of calculating and reporting your key operating indicators?
Is forecasting provided as a service to all departments?
Do you compare forecasts to actual performance?
Can you spot trends early in your key operating indicators?
Have you shared your key operating indicators with a direct selling expert like Sylvina Consulting?
Information Technology
Responsibility – to provide, support, and lead your company with solutions that manage and report information to your company and its sales representatives and customers.
Do you view your department as a "service" organization?
Does your company view your department as a strategic asset?
Do you measure internal client satisfaction with your services?
Do you have a "search" box on your website?
Are responses in the "search" box tracked?
Is analysis performed on the frequency of use of each part of your representative replicated website?
If you are using the services of a direct selling software company, do you know how to be a good client?
Conclusion
The questions above were written to help you determine if your business is fully tuned. How did you do?
If you've answered "no" to any questions, it means there is important work to be done to tune your business.
Sylvina Consulting has many years of experience in diagnosing issues and solving business needs for hundreds of direct selling companies of all sizes.
Jay Leisner(jay@sylvina.com) is the president of Sylvina Consulting. He can also be reached at 503.244.8787.