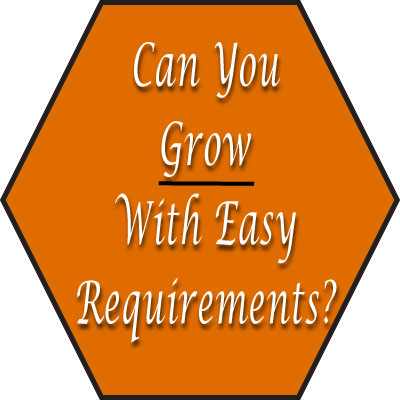 Some people who start companies believe that they need to be really nice to their representatives.  Their MLM startup or new party plan company is not going to be like the others.
Their philosophy is to offer an opportunity that is easy on performance requirements and expectations.  The thought is that if we don't ask people to do a lot, they will do a lot.
What's wrong with this picture?  There is a lot wrong.
Watch this video to find out why you should not be easy on performance requirements and expectations.
Requirements
In compensation plans, there are positions of achievement we call titles or ranks.  To qualify for them, independent representatives meet volume and structure requirements.  Both are measurements of organizational performance.
A volume requirement is a measurement of volume from (a) an individual independent representative, (b) a group of independent representatives within one's downline, or (b) all independent representatives within one's downline.
A structure requirement is a measurement of a count of people in one's downline who has met volume requirements and often structure requirements, too.  A structure requirement may be a count of active personally enrolled representatives, active paid-as legs, or a combination of both.
Structure requirements lead to more relationships between leaders, and leadership development helps to grow direct selling companies faster.
Volume and structure each matter, a lot.  To learn more about them, watch our video on compensation plan requirements.
Behaviors
A good compensation plan financially and ethically fits your business while motivating and rewarding very specific behaviors from your sales force.  In all, there are 12 of these behaviors.
Personally purchasing your products or services.  All network marketing companies and party plan companies are in the business of selling products or services to their independent representatives, but in most countries, you cannot legally require personal purchases as a prerequisite to earning multilevel compensation.
Selling to customers (non-participants of the income opportunity).  If you would like to maximize your revenues per representative and pay your representatives more money, selling to customers who are not representatives is the best way to do this.
Introducing the income opportunity to others (sponsoring/recruiting).  To grow bigger, direct selling businesses must enroll new representatives. For legal compliance, don't pay specifically for recruiting. Instead, compensate the enrolling representative and their uplines based on the sales volume generated by a new recruit.
Building a team. Teams are powerful.  They motivate participants to work harder and smarter. When team building is encouraged, two or more people benefit from the performance of one.
Training, supporting, and nurturing others.  To encourage the development of supportive relationships, you must compensate your representatives in ways that reward ongoing efforts to help others.
Becoming a leader.  While monthly sales are a good measure of company's month-to-month or year-to-year performance, it isn't the best measurement for predicting the future. The best measurement for predicting the future of an MLM or party plan company is the number of first-titled leaders in your sales force. This is because leaders recruit proportionally more people and have a greater influence over others.
Personally developing leaders.  It is true that leaders don't always sponsor leaders, and the sponsors of leaders are often not leaders. So your compensation plan must reward leaders for personally developing leaders regardless of the number of levels between the current leader and the new leader.
Helping other leaders to develop leaders.  We want all leaders to help develop other leaders, but not everyone knows how to do that. Your compensation plan should reward the teaching of leadership development skills by compensating leaders effectively for helping downline leaders to develop leaders below them.
Meeting or exceeding minimum activity requirements.  Multilevel compensation is a privilege, not a right. To earn the privilege, every independent representative should be required to meet or exceed personal sales volume thresholds.
Being promoted to a higher title or rank.  For your independent representatives, this business is about money, but it's also about recognition. Promotions to higher titles should be recognized in many ways, one of which is increased compensation.
Meeting or exceeding title maintenance requirements.  Every title in your compensation plan should have a set of requirements for promotion and maintenance.
Staying active and engaged in the business (retention).  Did you know that the average direct selling company experiences an annual retention rate of only 20% for new representatives? It's shocking, but who wants to be average? Wouldn't you rather your company be better than average? You bet you would! Retention superstars have a retention rate of 60%, which is 3 times the average rate.
Conclusion
It's a funny thing.  While everyone wants to have a company that grows quickly to a large size, some people actually sabotage their growth by being too easy on requirements.  Sometimes nice guys really do finish last.