If you are starting or growing a network marketing or a home party plan company, you need the best resources to help you to create, launch and grow your new business.  Your goal is success, and to be successful you will need to do many things well.
Start Here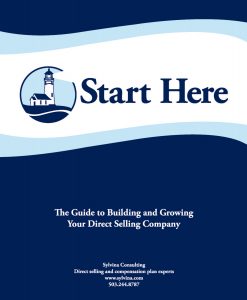 Start Here is our 250-page direct selling textbook with forms to fill in that were written to give you a well-grounded start to build and grow your party plan or network marketing direct selling business.
First published in 2008, we revised this book in November 2019 for our 5th edition. Now available in English and Spanish.
Each chapter includes essential information you need to know as soon as possible, a series of thought-provoking questions to direct you to action, examples, and suggested next steps.
When you follow the path of the book, you will build and grow your business faster.
BONUS:  Every book includes one hour of direct selling consulting time for your business, a $200 value.
Passion Supported With A Plan
Most businesses emerge from either enthusiastic love of an idea or desire for money, but you can have both.  When your passion is supported by a plan, your enthusiasm will remain strong while you manage your business development project effectively.
Start Here provides you with a path while helping you to blaze your own trails! If you are thinking about starting a direct selling company, beginning to create one, or have opened your doors for business but something is missing, this guide is for you.
Like a day planner, Start Here should be easily accessible so that you can update it with new ideas as you think of them.  In our guide, you can write down what's most important to you in one place instead of relying upon your memory or numerous note pads. As the old Chinese proverb says, "The palest ink is better than the best memory."
Our direct selling startup guide is divided into 15 chapters.  In each chapter, you will read information and answer important questions to help you to build your business. As you travel through the guide, your vision will become clearer as you define your company in more detail. In the last chapter, there is a checklist that includes each of the groundwork activities to be performed by you in the guide. As you complete an activity, tick it off in the checklist. Answering the important questions will help you to see where you need assistance.
More Than A Book
Start Here will teach you what you don't know, confirm truths you've learned before, correct your misunderstandings,  and provide guidance to stop you from making mistakes.
As you progress through this guide, you will have questions related to your business.  Write them down in the "Questions for Sylvina" pages at the end of each chapter. Included with each guide is one hour of professional direct selling consulting. You can use it to answer your questions.  Continue onward to the next chapter until you have completed the guidebook to the best of your ability.
Our Passion Is Helping Direct Selling Companies
We are excited for you and look forward to helping you to realize your dream. With our guide, you can choose to "do it yourself" or you can decide to use one or more of our professional consulting services to get you there faster.
At Sylvina Consulting, we make it easy for our clients by putting our 30 years of experience working with emerging and established direct selling companies to work for you. With Start Here, you can move forward swiftly to build, launch, and grow your successful network marketing or home party plan company.  And beyond the guide, Sylvina Consulting can help you along each step of the path to create, launch and improve your company.