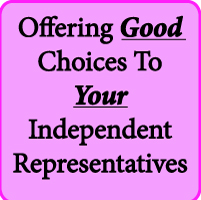 If you are like many direct selling companies, you may be offering choices to your independent representatives.
Make sure they are good ones!
Are you interested in learning more about what to do and not do?  Watch our informational video below.
Easy Choices
When you offer choices to your representatives, try to make it as easy as possible for them to choose. Offer reasons why a rep would choose one choice over another. This way, each rep can review the reasons and make his or her choice with knowledge instead of frustration.
Not Too Many Choices
"Everything in moderation." This includes choices. If you offer too many choices, it's too difficult to make a decision!
No Regrets
Don't offer choices that may turn out later to be bad decisions your representatives find to be regrettable.
Questions?
If you have questions regarding the choices you are currently offering to your independent representatives, give us a call at 503.244.8787.  We can help you and your representatives.