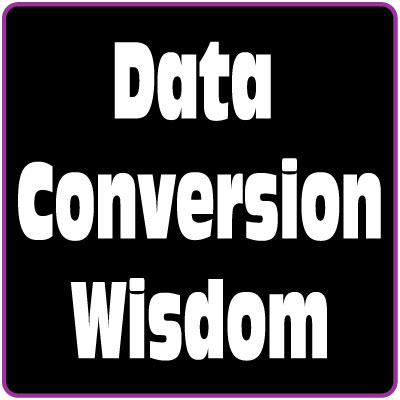 If you are thinking about changing MLM software platforms, one of the topics you'll need to address is "data conversion."
Data conversion is a series of steps to bring information from one system into another.  The first step is to decide exactly what to convert.
In this video, I will share with you the questions I ask my clients to help them with their data conversion decisions, but first, let's start with data conversion basics.
Watch our video below to learn the basics of data conversion and more.
MLM Software
MLM software is a necessity if yours is a direct selling, network marketing, MLM, or party plan company.  New companies can live without it for only a short while.
MLM software is the heart of your business and replacing your MLM software is much like a heart transplant.
Both startups and established companies need MLM software that performs all of the key functions of the business including representative enrollment, order processing, inventory management, fulfillment, commission calculation, representative websites and back-office functions, and customer relationship management.
The Word "No"
While new and young direct selling companies tend to be more accepting of MLM software that doesn't perform exactly as desired, as a company grows it becomes less tolerant of software limitations and much less accepting of the word "no."
Most MLM software companies don't deliberately disappoint their clients.  Even so, clients hear the word "no" when a software company
says it will take months to make software modifications that a client needs today
explains there are no plans to develop a requested deliverable
responds that requested functionality is planned to be added to their software, but there is no timeline for the project
While smaller companies deal with their disappointment, for larger companies, the word "no" is unacceptable.
Needs Change
Having worked with direct selling companies for 30 years, I have seen firsthand the bewilderment, exasperation, anger, and mutiny that results when an MLM software company is unable to meet the changing needs of a client.
It's sad but true.  In the life of direct selling, network marketing, MLM, or party plan companies, it is likely you will use the services of more than one MLM software company.  Like a shirt you outgrow, as your business gets larger, you will outgrow your MLM software company.
What To Do Next?
If you're not sure if you've outgrown your MLM software company, ask us.  We can help you to make this determination.
MLM software companies and their software applications each have strengths and weaknesses.  The more you know, the better choice you'll make.
When To Replace MLM Software
If you already have MLM software but you're unhappy, when is it time to replace yours?
It may be time if:
you believe you have outgrown your software.
the quality and timeliness of response to your needs has fallen drastically and you see no hope of improvement any time soon
the needs of your business are not supported adequately by the software you have now, and your software provider can't give you what you need at a reasonable price, or what you need is not available regardless of price
the monthly cost of your current software is no longer affordable and you need a lower cost solution because your business is smaller than it was, or smaller than you expected it to be by now
Have you considered perhaps that maybe the problem isn't your software provider?
The relationship with your software company is like a marriage.  Both sides need to do their part to keep the relationship strong and healthy.
Are you doing all you can to be a good software client?
Premarital-Like Counseling
Before you get hitched to a new software company, know that you don't need to make this decision alone.  Sylvina Consulting can be your confidant and advisor in selecting new MLM software.  No software company pays us referral fees.
If you need additional help to manage the relationship with your current provider or with a new one, we also offer monthly implementation consulting.
Your Company:  Similar But Unique
While similar to other companies, yours and all other direct selling companies are also somewhat unique.
The sponsoring relationships between your representatives need to be tracked.  This is called genealogy tracking or lineage management.
Representatives have both personal sales volume and one or more types of group volume, each of which also must be tracked as orders are processed and accepted.
You need to calculate and pay commissions and bonuses according to the rules of your compensation plan.
You should provide your representatives with useful information for them to run their businesses.
For these and other reasons, software that can be used to run other businesses isn't sufficient to run a direct selling business.  As a result, you will need direct selling software.
Direct selling software is used not only to help contain your administrative costs while increasing your efficiency and accuracy but also to provide your sales force with tools to better manage their businesses.
Like a three-legged stool, your business will be supported by three elements:
Your Products/Services
Your Opportunity
Your Information Systems
Direct selling software should include the following functions:
Representative Enrollment
Lineage (Genealogy) Management
Inventory Management
Order Processing
Hostess Rewards Program
Autoship
Accounts Receivable
Compensation Plan Calculation
Contests and Incentives
Report Writing
Imports and Exports
Multi-Currency
Multi-Language
Corporate System (Back Office)
Representative Personal Web Sites (Portal / Intranet / Rep Back Office)
Conclusions
Whenever a direct selling company decides it must replace its MLM software, it will undergo a heart transplant.  While the goal of the transition is to obtain a healthier heart, this is a risky procedure.  The patient must be kept alive during the transplant!
Your operations as a network marketing, party plan, or social selling company are administered by people and software.  Together, they form the infrastructure that keeps your business rolling down the track.  If you're struggling to keep it all together, don't struggle alone.  Instead, contact an experienced and competent MLM consultant.  The experts at Sylvina Consulting can be there to help you.  Helping companies like yours is what we do best.