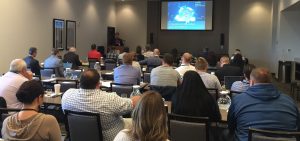 In the summer of 2011, I approached direct selling attorney Kevin Thompson with an idea to develop with me a conference for new and young direct selling companies.
We would build a team of direct selling professionals, each a top expert in his or her subject area. The faculty members would teach the attendees, giving them action steps they can take when they return home to build and grow their network marketing and party plan direct selling companies faster.
Kevin said to be successful, you need to have an edge and that is how the Direct Selling Edge Conference came to be named.
At our third conference, one attendee observed, "This is not just a conference. It is a school for companies." He was absolutely correct.
Geared for both new and established companies, the Direct Selling Edge Conference provides a unique 2-day learning experience at a great value.  Tickets are only $200 each.
"The price of this event is a bargain. I have paid thousands of dollars more to attend conferences that were less informative, less instructive, and less friendly. The information shared, the contacts gained, and the friendships formed with other people in the industry are priceless." – Jonathan M.
"What a wonderful two days! So many things I hadn't thought of and the things I thought we were "good" on turned into my biggest

eye-

openers." – Ty F.
"We have been in business for a few years. This conference is a must not just for startups. The quality and knowledge of this conference's speakers are simply amazing. It blew my expectations! I loved it so much and it is so informative that next time I'm planning to send my CFO, my Executive Assistant, and my Customer Service Manager." – Laura B.
Our 18th Direct Selling Edge Conference will be held on October 2-3, 2017 in Franklin (near Nashville), Tennessee. The venue is the Drury Plaza Hotel in Franklin, a fabulous hotel with many free amenities for all guests.
Book your tickets now.  Also, don't forget to reserve your hotel room at our group rate of $149 per night while our group rate is still available.



To learn more about what our students have told us after attending one or more Direct Selling Edge Conferences, have a look at our 82 reviews.
Discover the topics we'll teach by viewing our agenda.
Why Do People Go To This Two-Day School?
To learn what they need to do to have a successful direct selling company
To learn what they don't know
To learn what they need to do to grow their companies faster
To improve how they operate their companies
To find out what they haven't yet done that they need to do right away
To relearn what they once knew, but forgot
To collect buckets of wisdom to be used now and in the future
To identify specific steps they will take immediately to grow their companies faster
To discover what they have done wrong, so they can fix these things
To learn what to avoid doing that would harm their companies
To build relationships with top industry experts
To network with other direct selling companies
People attend Direct Selling Edge to become wiser.
Yes or No?
Find out if the Direct Selling Edge Conference is for you by answering this important question:
If you could learn information to make better business decisions and avoid making mistakes, and as a result, you will build or grow your direct selling company faster, would you invest two days of your time to learn this information that will help you for many years?
If, like me, your answer is "yes", register today to attend the Direct Selling Edge Conference.
"I came to this conference two years later than I should have. Had I come two years earlier, I would have

saved

over $100,000 AND two years."  Tom B.
Don't wait.  Calendar the dates of October 2-3 for you to be in Franklin, TN.  Book your tickets and flights now.  Attend yourself or bring members of your team with you.