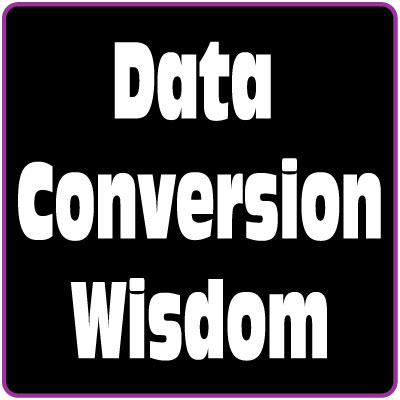 If you are thinking about changing MLM software platforms, one of the topics you'll need to address is "data conversion."
Data conversion is a series of steps to bring information from one system into another. The first step is to decide exactly what to convert.
In this article, I will share with you the questions I ask my clients to help them with their data conversion decisions, but first, let's start with data conversion basics.
Data Conversion 101
Each piece of your data is stored in a field, and each field belongs to a file or a table.  A group of fields related to the same person or transaction from a record or a row in a table.
The effort required to perform a data conversion is less impacted by the number of records or rows than it is by the number of files to be converted.
What this means for you is that when it comes to data conversions, you should be thinking about which files or tables to convert first, and then decide how far back to convert the data from these files or tables.
Data Conversion Questions
Life of Old System
How long will you be able to access the old system after you go live with the new one?
If your access to the old system will end shortly after you go live with the new system, you must convert all of the historical data that you will ever need now.
On the other hand, if your old system will be available to you for a year or longer, your need to convert data is much less because you can look up old transactions when you need them.
As time marches forward, your need to view old data will be less every day.
Old Data Needed
How much of the old data will you need in the new system?
The answer depends on your specific compensation plan and the status of your contests and incentives at the time of going live.
Seamless Reporting Over Time
Do you want to be able to report data together from the new system and the old system?
This is important if you wish to be able to analyze recruiting, sales, and compensation plan performance over time which includes the period before you go live with the new system.
System Compatibilities
How many of the new system's files can we populate with old data?
Every MLM software system has its unique aspects, some of which are related to the storage of data.  This means that some of your old data may not have a place in the new system.
Likewise, your new system may track data you don't have in the old system.  These system data storage differences may affect your data conversion decisions.
Data Conversion Approach
Will you convert all files that can be converted from the old system, or will you convert only the files that are determined to be absolutely necessary?
Conclusion
Whenever a direct selling company decides it must replace its MLM software, it will undergo a heart transplant.  While the goal of the transition is to obtain a healthier heart, this is a risky procedure.  The patient must be kept alive during the transplant!
Your operations as a network marketing, party plan, or social selling company are administered by people and software. Together, they form the infrastructure that keeps your business rolling down the track. If you're struggling to keep it all together, don't struggle alone.  Instead, contact an experienced and competent MLM consultant. The experts at Sylvina Consulting can be there to help you. Helping companies like yours is what we do best.
For more information about MLM software, go to MLM Software Advice.