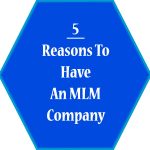 Several times each month, we talk with people who are uncertain about starting a multilevel marketing company. When I have these conversations, I give the caller the 5 reasons to have a multilevel marketing company.
Would you like to know the 5 reasons?
The 5 Reasons
1. Sell More
Will your products or services sell better when a person demonstrates or explains them?  If so, using a multilevel marketing model is a good idea.
2. Delegate Sales Rep Acquisition
In most types of companies, the company itself will always be in the business of finding new sales representatives.  Would you like to assign the responsibility of finding your new sales representatives for your company to others?
One of the purposes of multilevel compensation is to allow the company to get out of the business of finding new sales representatives. When you offer multilevel compensation, you successfully delegate the responsibility of finding new sales reps to your sales reps.
3. Grow Quickly
How does growing faster sound to you?
If your company was responsible for finding new sales representatives, your speed of growth would be limited to the recruiting abilities of your corporate staff which is limited in number.
When your sales force is responsible for finding new sales reps, you can grow faster because you will have more boots on the ground doing the recruiting work.  As a result, your company will grow faster!
4. Minimize Working Capital
Would you like to minimize the amount of money you spend to get sales?
Unlike other types of businesses that spend money on advertising before sales are made, direct selling companies spend money on field compensation after sales are made.
5. Help Others
Do you like the idea of building a company that not only sells good products or services but also empowers other people and you want to help others beyond just yourself?
Direct selling companies provide opportunities for part-time and full-time income.
Best Book For Direct Selling Companies
Knowledge is power and you can never have enough of either.
Treat yourself to the gift of direct selling business education.  Read and follow the advice in our 250-page book, Start Here: The Guide To Building And Growing Your Direct Selling Company.