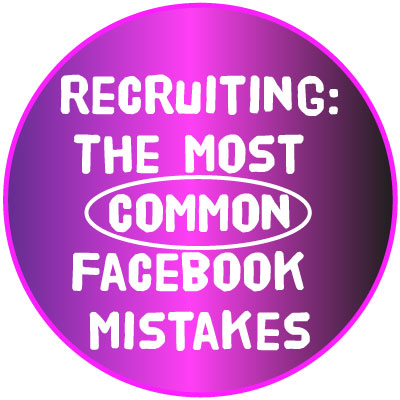 One of the things I learned a long time ago is that in advertising, it's recommended to have a call to action. We want prospective customers to do something when they read an advertisement.  Does this sound familiar?
Interestingly, when it comes to social media and recruiting, the advertising rule book offers the wrong advice. As a result, independent representatives of direct selling companies make key mistakes when they try to recruit on Facebook.
These mistakes were shared at the 2015 Go Pro Recruiting Mastery event in Las Vegas in October 2015 by four independent representatives of network marketing companies, each of whom has recruited more than 200 people using social media.
What Are The Mistakes?
Responding with an overload of information.  When people comment on your posts, don't reply with hundreds of words of information or links to websites, videos, or documents.  Start an online conversation with the person.  Keep your responses as short as they would be as if you were texting them.
Including a call to action.  While the advertising gods may be smiling upon you, this is the biggest mistake you can make if your goal is to recruit.  Absolutely don't have a call to action in your posts.  Instead, let those people who are curious about what you are doing make the first move to ask you about it.
Mentioning your company's name.  At this stage, engagement is more important than full disclosure. Keep the name of your company a secret at first; it will raise curiosity. Then, when your readers ask for more information, you can private message those who ask.  It is fun to start a conversation and see the interest build.
Sending unsolicited links or messages to friends.  Don't try to recruit by sending messages to people you know.  Let them learn about your income opportunity by reading your posts.
Recruiting the friends of others.  Don't try to recruit by sending messages to people you don't know, either.  They will consider you to be spam.  You don't want to be spam.
Writing posts that are very long with a link to watch a video at the end.  Most people don't read long posts.  For the ones that do, they won't have the patience to watch a video afterwards.  Keep posts short.  If you want to include a link to a video, make sure you upload the video to Facebook directly (as Facebook shows posts with links to videos outside Facebook less frequently than videos that are uploaded to Facebook).  Keep your video short as well.  Make sure your video is not a commercial for your products or your income opportunity.
Promoting products

.  If your goal is to recruit independent representatives, blasting information about products isn't going to work.  The time to talk about products is later, when you are having a conversation with your prospect.
What Should You Be Doing On Facebook?
Be real.  Make sure that your profile picture, whether on your personal or business page, is a photo of you.  People want to see what you look like.  Keep your profile photo consistent, changing it perhaps once or twice a year at most.
Make your business posts and About pages public.  If people are interested in getting to know you better, the last thing you want is to be a secret agent.
Don't put your company's logo in your cover photo.  Instead, put a scenery photo there.  Don't make it so easy to know which direct selling company you are with.
Include photos and a bio with adjectives.  Describe yourself in positive terms.
Be multi-faceted.  Pick five interests to post about, one of which is direct selling.
Be consistent.  Post at least every day and sometimes even two to five times a day.  Be encouraging and upbeat about things you post.
Express emotions.  Post about how things make you feel.
Online, then offline. After interacting on Facebook and seeing their interest, private message the person and start a conversation.  When you know they are receptive, send a link to a short video for them to watch.  Then, ask if 6pm or 8pm tonight works well for a call or in-person meeting.  Build the relationship on Facebook; then take it offline as soon as possible.