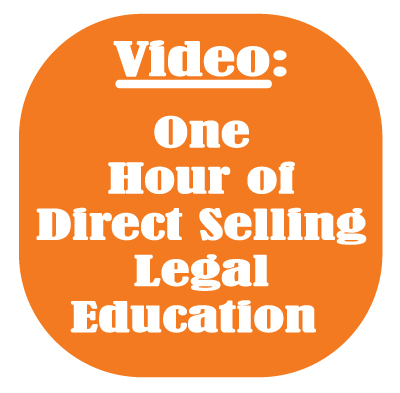 Did you know that the laws governing the direct selling and referral marketing channels are a complex tapestry involving state and federal statutes and an array of regulations?
While direct selling attorneys are truly the experts when it comes to these laws, it is important for you if you operate or will soon operate a direct selling company or referral marketing company to gain direct selling legal knowledge.
Our direct selling legal education compilation video includes information on the following topics:
1. New Problem: Joining For Product Discounts
2. Vemma And Herbalife FTC Decisions
3. 8 Reasons To Have A Compliance Department
4. Are Simple Compensation Plans Safer?
5, Are You A Bad Actor?
6. What Is The Cooling Off Rule?
7. Policies And Procedures: Sponsor Changes
Your legal education is important and the videos are free.
For further information on legal requirements, we recommend the highly-rated and insightful 250-page "how-to" book for new and young direct selling and referral marketing companies, Start Here: The Guide to Building and Growing Your Direct Selling Company.  The legal chapter is detailed and has been reviewed by a direct selling attorney.
Do you have questions about direct selling or referral marketing? Contact Sylvina Consulting for answers.
Sylvina Consulting:    www.sylvina.com
Office: 503.244.8787   Mobile: 503.784.7873
About Sylvina Consulting
Sylvina Consulting is a privately held firm with offices in Portland, Oregon, USA, that provides an extensive set of direct selling consulting services to network marketing, referral marketing, and direct selling companies.
We have advised and strengthened many startup businesses, young companies, new direct selling divisions of established companies, and large multinational corporations. Our largest clients have included Avon Colombia, Conklin Company, Creative Memories, FreeLife, Genesis Pure, Mannatech, Natural Health Trends Corporation, Nature's Sunshine Products, Optionelle, Pure Romance, Qnet, Younique, and Two Sisters Gourmet.
Our full understanding of direct sales terminology, operations, and business practices and a network of industry resources developed over many years each adds great value to a business relationship.
In addition to our work with direct selling firms in the United States, Sylvina Consulting has clients in Australia, Belgium, Canada, Colombia, Denmark, Finland, India, Israel, Mexico, Norway, Russia, Singapore, South Africa, Sweden, UAE, and the United Kingdom.
About Jay Leisner
Jay Leisner is a top direct selling and compensation plan expert, a trusted adviser to new and established network marketing and party plan companies. For more than 30 years, Jay has enjoyed assessing and improving party plan and network marketing companies across the globe.
In 2004, 2006, 2009, and 2014, Jay gave presentations on compensation plans and field leadership development at conferences held by the US Direct Selling Association.
He traveled to South Africa in 2015, 2016, and 2017 to conduct workshops on compensation plan design and recognition programs for member companies of the South African Direct Selling Association.
In 2017, Jay spoke at the Canadian Direct Sellers Association Meeting on the importance of recognition and in 2018, Jay led a workshop on recognition at the Annual Meeting of the USA Direct Selling Association.
More than just a compensation plan expert, Jay is exceptionally skilled at advising new and established companies on business strategies. Before offering advice or solutions, he asks important questions to understand each client's specific concerns and goals.
Jay is also great teacher. He wrote the powerful 250-page book for new and young network marketing and party plan companies: Start Here: The Guide to Building and Growing Your Direct Selling Company.