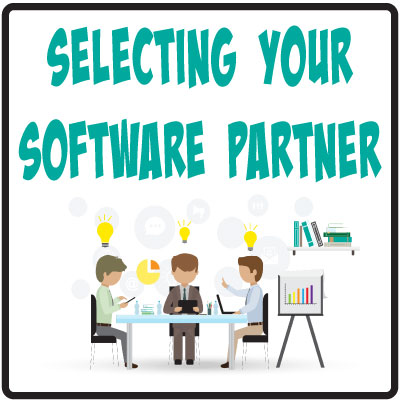 Written by Todd Tolman, Prodigix Software.
Choosing the right software partner is critical to your success as a direct selling company. There are many things to consider, but here are the most important things to keep in mind during your search:
Budget – how much money do you have available for technology?
Product/Service Needs – what are your specific needs in marketing and delivering your product/service?
Support – how responsive to your questions and needs is your software provider?
Budget
There's no sense in signing on with a software company that costs more than you can afford. The type of software you are looking for will range from as little as $1,000 to as high as $100,000, depending upon your needs. I agree that this is a wide range, and most software companies don't do a very good job explaining why they can charge so little, or so much. But, in general, if you have $10,000 to spend you can find a decent software solution; there is a sweet spot for companies in the $8,000 to $15,000 range. If you don't fall within this budget range then my advice is to continue tracking your business with inexpensive accounting software (i.e., Quickbooks) and a spreadsheet (i.e., Microsoft Excel).
You'll also want to consider your ongoing software costs. Most software companies have a hosted solution that requires you to pay an ongoing monthly fee. The average range is going to start at around $500 per month for the small to mid-range systems and around $2,000 for the larger systems.
Product/Service Needs
Before you approach a software company to discuss their products be prepared with a list of functional requirements that you must have to operate effectively. If you are selling tangible products that need to be shipped to your customer, your needs are far different than if you are selling an online service or e-offering. Inventory management, shipping and fulfillment, sales taxes, and many more areas must be automated by your software if you plan on succeeding. But, many of these foregoing functions are not so critical if you are doing an e-offering. What becomes more important here is the ability of the software provider to integrate your online e-offering with their core administrative, distributor management, and commission tracking software, so you can accurately calculate commissions on sales events that occur on your e-offering website.
So, if you are doing an e-offering you really don't need an expensive system with all the bells and whistles. Most of those $10,000 or fewer systems will probably do just fine. But if you are selling a physical product you might need more than those basic systems provide, especially if you plan on going international.
International needs are the biggest defining point between smaller, less expensive systems and the more expensive software systems.
If you plan on selling your products outside of the USA, your choices for software narrow very quickly. The key here is whether you plan on operating in multiple currencies or simply just using US dollars for all your transactions.
If you are doing an e-offering, you can continue to operate in US dollars throughout the world because most of your customers that use the Internet also accept the fact that most premium sites require payment in the form of a major credit card or wallet system like PayPal. And, since M/C and VISA are used worldwide, any foreign distributor can use their major credit card and shop on your Website, paying for their orders in US dollars even though their credit card account is denominated in a foreign currency. Basically, the VISA/MC network takes care of the currency conversion automatically.
If you have a physical product to sell, your international buyers are going to expect prompt delivery and will often prefer to buy your product at a local supplier using their local currency. There are programs called NFR (not for resale) that allow you to transact in US dollars and require you to ship the product from the US, direct to the residence of the buyer. But, this is normally just a short-term solution until you can get your distribution established in the region.
Most of the less than $10,000 software systems can get you started going international so long as you continue operating in US dollars as your base currency. But, even if a smaller system can handle multiple currencies, there are even bigger issues that need to be addressed. Setting up international warehouses, Value Added Tax (VAT) tracking, shipping and customs, licensing your products, and many more areas are frankly better handled by more established software companies that have the human resources with the needed background and experience to take you global.
Support
On a scale of 1 to 10 (10 being the most important), good customer support is a 10. You will find that most companies are pretty comparable in offering the functionality you need to get started; the glaring difference you'll find is how they deal with their customers. However, this is the hardest to evaluate.
There are some very "slick" operators out there that pitch a good game, but buyer beware! Ask the software company to provide you with a reference list of some of their oldest standing customers. Now, you already know that they are not going to give you a list of unhappy customers, but that's okay. You'll find that most customers will be direct with you if you warm up to them. Explain that you understand that no software company is perfect and that you are mostly concerned about the attitude and mindset the support team has when the customer calls. Here are some questions to ask:
How is their training?
How quickly do they get back to you with questions sent via E-mail?
How easy is it to get someone on the phone to answer a question?
What about programming requests; are they quick to respond and get the job done?
Another part of your investigation should be a Google search. Do a search on the company name and try to find customer comments on public forums and other Websites. You'll be surprised how much you can learn about the company's past.
Conclusion
If you are selling an e-offering you can most likely be served by a software system that costs $10,000 or less simply because you don't need a lot of the functions that a bigger system provides such as multiple currency support. If you are selling a physical product, first decide if you need to go international any time soon; if not, then one of those less expensive systems will likely do just fine. Most importantly, make sure the company is going to provide you with the support you will need to be successful with your software.
—-
Todd Tolman is the co-founder of Prodigix Software, a provider of MLM software for new and growing network marketing companies.