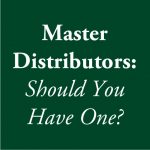 A master distributor is the person you put at the top of your genealogy, the one in whose downline every other independent representative will be placed. Master distributors are optional.
Should your company have a master distributor?
In this video, I'll explain the pros and cons to such an arrangement. Then, you can decide what's best for your company.