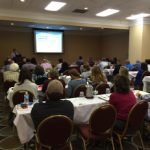 Have you learned everything that you need to grow your direct selling company smarter and faster, or do you need to know more?
When was the last time you treated yourself and your company to the gift of continuing education?  Do you believe that the more you know, the fewer mistakes you will make?  I do.
The Direct Selling Edge Conference is a two-day school for new and established network marketing and party plan direct selling companies.  Hosted by top compensation plan expert Jay Leisner of Sylvina Consulting and leading MLM attorney Kevin Thompson of Thompson Burton, this conference has been held several times yearly since 2011.
15 Reasons
Here are 15 reasons for you to attend the Direct Selling Edge Conference.
Understand what you need to do to grow your company smarter and faster.
Get the information you need to make better business decisions.
Collect buckets of wisdom to be used now and in the future.
Improve how you operate your company.
Learn what you don't know, that you need to know.
Relearn what you once knew, but forgot.
Find out what you haven't yet done that you need to do right away.
Identify specific steps you will take now and later.
Discover what you have done wrong, so you can fix these things right away.
Learn what to avoid doing that would harm your company.
Build relationships with top industry experts.
Network with other direct selling company owners.
Just one great idea can change your world.  Get ready for many.
Invest in yourself because you're worth it, and you deserve it.
Now is the time to work on your business.
Would you like to have a copy of these 15 reasons?  No problem.  You will find the reasons here.
Low Cost, High Value
Attending the Direct Selling Edge Conference on October 17-18, 2019 is not an expense.  It's a small investment in your large future.
It's a twofer.  You get two full days of education for companies with a buffet lunch each day for only $250 each.  When you register three or more students from your company, tickets are only $200 each.  Don't wait to reserve your seat.  Register now.
Would you like to know what attendees have told us about their Direct Selling Edge experience?  Their reviews are excellent.
Conclusion
The best way to build your direct selling company smarter and faster is to come to the Direct Selling Edge Conference.