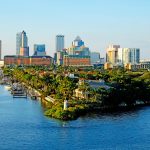 As winter approaches, you may be thinking it would be good to go somewhere warm and sunny.
What if you could go somewhere warm and sunny where you could also learn more about how to build and grow your direct selling company smarter and faster?  That's why we decided to hold our next Direct Selling Edge Conference in Tampa, Florida in February 2020.
The dates are Monday and Tuesday, February 24-25, 2020.
The best business trips include time for relaxation and seeing the sights of the local area. Why not this weekend before enjoying the weather and sights of Tampa and other nearby Florida coastal cities and islands? That's my plan. It can be yours, too!
Tickets
Register now to attend the Florida Direct Direct Selling Edge Conference.
Get Schooled
When you attend, you will learn:
how to design or improve your compensation plan from top compensation plan expert, Jay Leisner of Sylvina Consulting
how to operate your company legally from top MLM attorney, Kevin Grimes
what to spend on company recruiting and how to spend your company recruiting dollars, from Jeff Jordan
how to get value-added investors for your company, from direct selling entrepreneur Jeff Stroud
what to do before or after you get your MLM software, from Jerry York
how to set up your field compliance department, from Donna Marie Serritella
and so much more!
Hosted by Jay and Kevin, this conference will give you and your company the edge to be more successful.
In addition to our subject-focused sessions, you will have opportunities to sit down privately with our expert faculty members to ask your questions and get free consulting advice.
A Bigger Business
If you want your business to get bigger and stay healthy, you need to attend the Direct Selling Edge Conference on February 24th-25th, 2020 in Tampa, Florida.
That's just one reason to register now to attend our corporate school for network marketing, party plan, social selling, and direct selling companies.
Here are 15 more reasons:
15 Reasons To Register
Understand what you need to do to grow your company smarter and faster.
Get the information you need to make better business decisions.
Collect buckets of wisdom to be used now and in the future.
Improve how you operate your company.
Learn what you don't know and what you need to know.
Relearn what you once knew, but forgot.
Find out what you haven't yet done that you need to do right away.
Identify specific steps you will take now and later.
Discover what you have done wrong, so you can fix these things right away.
Learn what to avoid doing that would harm your company.
Build relationships with top industry experts.
Network with other direct selling company owners.
Just one great idea can change your world. Get ready for many.
Invest in yourself because you're worth it, and you deserve it.
Now is the time to work on your business.
Low Cost, High Value
Tickets for the Direct Selling Edge Conference are only $250 each with lunch included each day.
Our attendees tell us that we offer a unique educational opportunity for anyone looking to build or grow their direct selling company.
For all conference details, visit our conference website at https://www.directsellingedge.com.
If you have any questions, call or text Jay Leisner, the co-host of the conference, at 503.784.7873.  Jay and the entire DSE faculty look forward to meeting you in warm and sunny Florida in February.