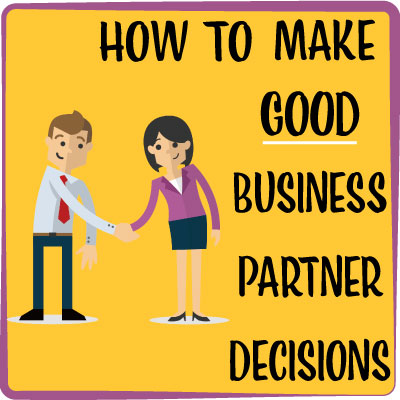 "I chose the wrong person."
"We didn't share the same expectations."
"It turned out that our ethics were very different."
Just like marriages, business relationships can break apart for fundamental reasons.  Whether you're in search of new business partners or you're already hooked up, there are smart things you can do now to strengthen these relationships.
This article contains some important tips on how to protect your business from the risks of business partnerships.
What should I do?
By definition, a business partnership is an agreement to equally or unequally share the ownership, responsibilities, risks, and profits of a business.
The three primary causes of business partner relationship problems are unshared expectations, unshared goals, and poor communication.  To eliminate these threats, do the following:
Spend time with prospective business partners in several business settings and social situations so that you can learn about the person's ethics and values.  It's important to select business partners with ethics and values as close to yours as possible.
Look for people who in their conduct with others exhibit a high level of mutual respect and willingness to listen.  If you see behavior that troubles you, consider this an early warning sign that shouldn't be ignored.
Ask prospective business partners about their vision for the business.  Write down the vision statement of each prospective business partner.
In business partners, seek to obtain skills that you don't have and willingness to perform tasks that you don't especially like.
Talk with others in the know to find out about the work habits of prospective partners.  Watch for signs of laziness or looming personal issues that will take the focus away from your business.
Define clearly the roles and responsibilities of each partner, including the time to be spent by each partner and the respective financial investment by each partner in the business.
Define clearly the work location of each partner.
Address the legal issues of your business partnership, including the liabilities of each partner, with competent legal counsel selected by you.
Make it clear how final decisions are to be made if partners disagree.
Decide who will manage the financial books of the company and who will audit them.
Establish and maintain predictable, regularly scheduled communication with all business partners.
Determine the terms under which a partner may sell or transfer ownership of his or her share of the business to others.
For specific help with your business partner relationships, contact Sylvina Consulting at 503.244.8787.