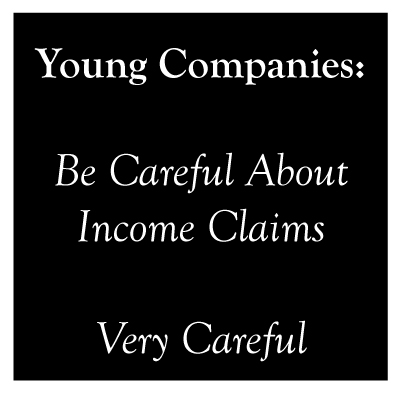 Sometimes new or young companies want to show how much income a representative can earn with a good downline. The problem is that at the moment, no representatives with a good organization exist yet.
What Should A Company Do?
I do not believe it is ever a good idea for a direct selling, referral marketing, or network marketing company to publish and distribute any calculations that show how much annual income a rep can earn with a "good" downline. Here are my reasons:
The calculations at this time would be theoretical, not real, because none of the reps is earning compensation on downline volume through the compensation plan.
If a rep does not achieve what the company says is a "good" downline, they may feel like a failure.
All income claims need to be presented with an Income Disclosure Statement which contains statistical information on what reps earn on downline volume.
Since there is no income history yet of earnings on downline volume, an Income Disclosure Statement cannot be generated.
With no Income Disclosure Statement available, there should be no income claims made or theoretical earnings provided whatsoever on downline volume.
Therefore, I advise you not to share any theoretical calculations with your reps. Moreover, I recommend that you prohibit your reps from making any income claims or sharing any theoretical earnings regarding your compensation plan unless and until the claims or theoretical earnings can be presented with an official Income Disclosure Statement.
In a year from when the compensation plan takes effect, the company will be in a position to produce its first Income Disclosure Statement and then the company should update and publish this document annually. This income claims limitation should be one of the many elements of your Policies and Procedures.