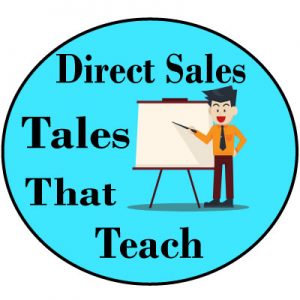 Over the years that I've worked to improve party plan and network marketing companies, I've seen the results of mistakes made by others with good intentions.
Eleanor Roosevelt once said, "Learn from the mistakes of others. You can't live long enough to make them all yourself."
I agree. There is wisdom to be learned from the experiences of others.
While like a cat we don't have nine lives, in this article, I'll share with you nine of these tales. Each offers an important lesson.
You can read them all by scrolling down the page, or click on them individually below.
Several top distributors for an established network marketing company with a successful autoship program approached the owner with an idea to help make recruiting easier. They suggested that the company eliminate the personal sales volume requirement in its compensation plan, but retain the group volume requirement.
As a result of this innovation, the leaders would be able to recruit thousands of new people. The company wanted to grow, so they accepted the suggestion and introduced the upcoming change at a company convention.
Prior to announcing the better compensation plan, about 40% of the active representatives were on autoship. Within three months, the number of new recruits grew, but the autoship participation rate dropped by 50% and the percentage of all recruits ordering fell as well. Overall, sales declined and the distributors weren't happy with smaller checks. The company wasn't pleased, either.
When the personal sales volume requirement was reinstated, sales began to climb.
Lesson Learned:
A personal sales volume requirement helps to encourage autoship enrollment. When autoship enrollment participation declines, sales decline, too.
An established party plan company with many years of declining sales and an aging sales force was purchased by investors.
The new owners (1) gave the company a new name, (2) introduced product lines with higher price points, (3) changed the sales event at home parties from shopping to entertainment, and (4) focused on recruiting younger representatives.
Two years later, the company filed for Chapter 11, unable to pay millions in receivables, and closed its doors.
Lesson Learned:
Replacing four organs at once is a risky operation. To minimize risk, don't change everything at once.
In a bar, a jewelry designer met a successful independent representative of a direct selling company. They started talking about what each other does for work.
Over the next few months, they talked by telephone and meet in person. They were really excited!Having worked for a conglomerate for many years, the jewelry designer felt unappreciated. The women talked for hours about how they could form their own company.
The representative said she'd give anything to start her own party plan company, selling jewelry.Having worked for a conglomerate for many years, the jewelry designer felt unappreciated. The women talked for hours about how they could form their own company.
All they needed now was investment money. The jewelry designer talked with a wealthy friend. She was willing to put up $250,000 in exchange for a 33% share of the business.
The deal was done. A business was born!They all agreed that the independent representative would be the CEO and COO. The jewelry designer would be the VP of Artistry and the third partner would be the CFO.
They all agreed that the independent representative would be the CEO and COO. The jewelry designer would be the VP of Artistry and the third partner would be the CFO.
The CEO/COO was thrilled that she had two business partners who were willing to work as hard as she was to build and grow their new business.
The financial partner put in the money as promised. The jewelry designer designed the jewelry, it was manufactured, paid for and received, and it looked great!
The CEO/COO got busy writing marketing materials, held her own home parties, and crisscrossed the state to meet face-to-face with prospective recruits. She realized that she was doing 90% of the work. That had to change!
Lesson Learned:
Come to a shared understanding in writing of roles and responsibilities of each business partner before you're in business.
An established home party plan company had a strong leadership development program.
To qualify and be promoted to Director, consultants needed to personally enroll so many active recruits and meet team volume requirements for several consecutive months. A special department at the company identified prospective Directors, inviting them to attend prospective Director training and to participate on prospective Director conference calls. Many new Directors were developed each year.
Once one became a Director, personal sales volume and team performance measurements were not required to be paid as a Director. Most Directors were initially pleased with their new roles, but as time went on, many of them complained that they were underpaid.
While the company was continually promoting Directors, the total sales volume for the company each month was the same. If consistency was the measure of success, this company would have won first place!
Management realized the problem. They had created an entitlement program for Directors. Once a Director, always a Director. Clearly, something had to be done.
A new compensation plan was developed which imposed maintenance requirements on Directors and Directors were given six months notice of the upcoming change. Management explained that with these new requirements, sales would climb and everyone would be better off.
Some of the Directors didn't see it that way. They threatened to quit if the company implemented the compensation plan change.
An offsite management meeting was held to decide what to do. Someone said, "Let's grandfather the current Directors under the old plan. The requirements will only affect the new Directors. That way, they won't quit!"
Happy that they resolved their problem, the company implemented the compensation plan change for new Directors.
A year later, the company closed its doors. Requiring performance of new Directors didn't help grow the company's sales.
Lesson Learned:
Don't build an entitlement culture. Instead, build maintenance requirements into your compensation plan. Don't treat existing representatives better than new ones.
A party plan company thought they could jump start their business by paying a stipend to their first representatives who previously were leaders for another company.
To help them financially in their first three months while they were to be selling, recruiting, and building their teams, each was offered a $1,500 per month stipend plus earnings from the compensation plan. The $1,500 per month, however, was guaranteed.
Each of the representatives collected her $4,500. One of them collected her money, sold a few products, and didn't recruit anybody.
The other two were a bit more productive but decided at the end of the three months to do something else.
Lesson Learned:
Pay for performance works best. If offering a stipend, tie it to meeting specific goals. If the goals aren't met, there is no stipend.
The owners of a new network marketing company decided to have some local software developers write them a software application for their business. The guys were young, bright, and eager to please. They quoted $5,000 which was a bargain, so a deal was struck.
As the project progressed, the owners continued to define the requirements for the software. After two months, the software developers realized they had bitten off more than they expected, so they met with their client to tell them it was going to cost $5,000 more.
The owner of the network marketing company reluctantly agreed to pay the additional funds.
When the system was presented to the owner, he was disappointed as it didn't include everything he needed. While the software developers were willing to do more if they got paid more, the owner decided he had made a mistake and contacted a direct selling software provider with an existing solution. At the same time, he engaged a direct selling consulting firm to help define and communicate his business requirements to the software company.
Lesson Learned:
If you choose to have a custom software solution written for you, make sure you've identified all of your needs in writing first.
Don't assume that software developers fully understand the needs of direct selling companies. Assume you have to tell them what you need. If you haven't operated a direct selling company before, the odds are good you don't know all of your needs.
If you don't know what you need, it can be a costly mistake to have a custom built solution made for you. Unless you're an experienced user of direct selling software, it's best to be safe by becoming a client of a reliable direct selling software company. If you haven't used MLM software before or if you don't know which MLM software companies are reliable, it's wise to get help.
Some of the assets of an established network marketing company were purchased by a contract manufacturer of nutritional products who was starting his own MLM company.
The sales force of the established company was purchased, but not its products as the new company had no interest in selling them. The plan was to have the purchased sales force sell nutritional products, but the distributors were loyal to the old products and to the owner of the company who created them.
Many called the previous owner to ask if they could buy the products from him. Of course, he said, "Yes."
Nothing in his contract with the new company prohibited him from selling his products. He just couldn't operate a network marketing company for several years. Instead, he sold the products to interested customers individually.
A few months later, his contract with the sales force purchaser was voided when the new company folded and several payments were missed. The distributors were thrilled when a new network marketing company was created to sell them. Many of them enrolled in the new venture.
Lesson Learned:
If purchasing a network marketing company, don't assume the sales force has no bonds with the current products.
After studying several large direct selling companies, a doctor decided he wanted to start his own party plan company, but his company was going to be different.
His sales force was not going to be composed primarily of part-timers earning a few hundred dollars a month. Instead, he would have only highly productive experienced salespeople who were looking for full-time income. For his company, the average representative would have personal sales of $10,000 to $15,000 per month, generated by conducting 12 to 16 home parties.
Anyone could apply to be a consultant. However, the company would decide who would be accepted as representatives.
Recruiting proved to be a challenge. The company found it difficult to find experienced salespeople who were willing to quit their jobs in sales during the day in exchange for a lifestyle where they were expected to be working 12 to 16 nights per month and to earn commissions on personal sales of $3,000 to $4,500 per month.
Lesson Learned:
Approximately 90% of independent direct selling representatives operate their businesses part-time. Only a small percentage generate full-time income. Most successful salespeople in traditional marketing channels earn a lot more than $3,000 to $4,500 per month. Direct selling representatives who earn $10,000 per month and more don't do it based on personal sales volume. Instead, they build sales organizations which take time to develop.
The company and its sales were growing at a rapid pace. At the end of its third year, the business was 20 times larger than at the end of year one.
The rate of growth slowed somewhat, but still, in year five the company generated sales that were 250% larger than those in year three.
Then, the engine of growth sputtered. Sales didn't drop, but they didn't grow either. For three years, the company sat on a plateau waiting for the winds of growth to return.
When the winds came back, they had changed direction! As the business shrunk, it revisited sales figures from years earlier.
What had gone wrong?
Looking back, its president told me, "We should have used outside consultants when the business was growing. It would have saved us a ton of money."
Lesson Learned:
Don't wait for your business to be in trouble before engaging outside help. The right MLM consultant can help you not only when your business has a problem, but he can also steer you away from situations to avoid problems.
Conclusion
In life, we all make mistakes which make us stronger. When you can learn from the mistakes of others, that's good, too.
To learn more, contact Sylvina Consulting at 503.244.8787.