Network marketing companies, party plan companies, and established companies or individuals considering direct selling are each clients of Sylvina Consulting.
Our clients include businesses in development, young companies, and established businesses of all sizes in the USA and other countries throughout the globe. We have 35 years of experience with direct selling projects serving more than 400 clients.
What Do Our Clients Say?
Many of our clients have written us letters of thanks and others have given us just a few words of praise.
The Guide For New Companies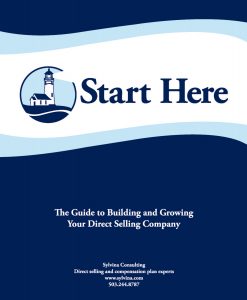 If you are new to direct selling, you may be interested in our 250-page, 15 chapter Start Here guide that contains essential information, steps to take, and a path to follow to start your own home party plan or network marketing company (or division).
Nuestra guía también está disponible en español.
We Grow Companies
If you have an established business and you would like to grow your business faster, you should contact us, too.