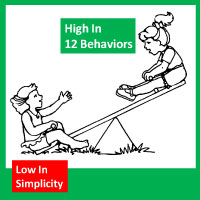 Do you remember going on the teeter-totter when you were a kid?  If you lived in Australia, Canada, the UK or other former and current British possessions, you probably remember the seesaw.  When you were up, your partner was down, or vice versa.
Without realizing it, your company may be riding on the compensation plan teeter-totter the wrong way!
What Is The Compensation Plan Teeter-Totter
In a compensation plan, there are two forces at work that are diametrically opposed to each other.  One is simplicity and the other is the set of 12 essential compensation plan behaviors.
Watch our video below for more on this topic.
About Simple Plans
Did you know that simple plans wound and kill companies?  Sharing this information is important to me, because of our company's mission of education.
Our Mission:  We educate the owners, management teams, and independent representatives of direct selling companies with information, wisdom, and solutions to improve the health and stability of their businesses.
Lack of Depth
Simple plans pay on just a few levels of downline volume.  How many is too few?  I would say a plan that pays less than five levels deep is a simple plan.
Only Pay By Level
Many simple plans also pay only by level.
A level is a positional relationship between two independent representatives in the same leg.  While paying by level is good, a compensation plan that pays only by level is too simple, which is bad.
Not Using Compression Properly
Compression is a term used to describe the action of bypassing inactive or ineligible independent representatives when determining rank qualifications and/or compensation plan earnings.
Simple plans are ineffective in their insufficient use or overuse of compression, or in their decisions to use the wrong type of compression.
For more info about compression, read my article Compensation Plans: Focus On Compression.
Insufficient Recognition
Simple plans often have too few compensation plan ranks and/or the requirements for the ranks are not set properly with full consideration with each other.
Not Measuring Volume and Structure
Volume requirements are absolutely necessary for multilevel compensation plans.  Simple plans frequently have volume requirements that are either too high, too low or both.
While volume is king, structure is queen.  Structure requirements help representatives to meet volume requirements.  Simple plans commonly lack structure requirements.
Did you know that structure requirements lead to more relationships between leaders because one can't promote to higher titles based purely on volumes?  Leadership development helps to grow direct selling companies faster.
Too Few Bonus Types
While you can't pay people 50 different ways, great compensation plans pay representatives 6 to 12 different ways.
Many simple plans include only a handful of ways to earn money.
Assuming Identical Performances
Some simple plans are based upon the assumption that if everyone recruits so many, then everyone will get great compensation.  The truth is that this conclusion is a myth.
Compensation plans built on myths never place a company on the success highway.
Design Without Awareness Of The 12 Behaviors
One of the reasons people design simple compensation plans is that they are unaware of the 12 essential behaviors that all multilevel compensation plans should motivate and reward.
Simple compensation plans cannot encourage and compensate independent representatives of direct selling companies for the activities we want them to perform.
I encourage you to evaluate your compensation plan using the features listed above.
If any of these features describe your compensation plan, let's talk.  The last thing you want your simple compensation plan to do is to wound or to kill your company.
Why Do People Design Simple Compensation Plans
Some people design simple compensation plans because they believe that independent representatives are not successful in direct selling because a complicated compensation plan confused them and because of this confusion, they didn't go to work.
This is a myth.  The largest direct selling companies all have compensation plans that aren't simple.
Comfort With Simplicity
Others create simple compensation plans because they don't feel knowledgeable, comfortable and confident to design a more complex plan. The limitations of the compensation plan designers impact the types of plans they design.
Lack Of Knowledge
Many who design simple plans don't know about the 12 key behaviors we want to motivate and reward through multilevel compensation. Without this knowledge, they are unaware that simple plans cannot encourage and compensate independent representatives for the activities we want them to perform.
Did you know that leadership development is a key ingredient in the recipe for long-lasting direct selling company success?  Leaders recruit more, sell more, and stay in the business longer than others.  Simple plans effectively prevent leadership development.
To be successful long-term, all direct selling companies need to have dynamic compensation plans that aren't simple.
Conclusion
If you look at the compensation plans of successful companies, you will see that none of them are simple.
If your compensation plan teeter-totter looks like one that sits in the red or yellow square, Sylvina Consulting can help you to get more green for your business.
Contact Jay at 503.244.8787 for further information.