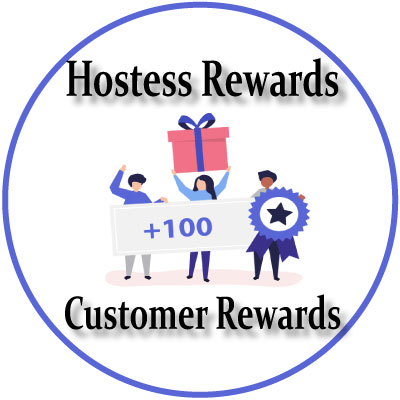 Free and discounted products are the rewards that direct selling companies offer to customers and hostesses.
While the rewards provided to customers and hostesses are similar, the behaviors we want to see from each are different.  In this video, I will explain these differences so you will see why a one-size-fits-both approach won't work.
Many people think that the compensation plan of a direct selling company is the most important element for success.
While we agree the compensation plan is important, we believe that the hostess program is equally important to the strength of a party plan direct selling company.  Without a good hostess program, it will be difficult to book parties, which will result in lower sales and lowered morale of your independent consultant sales force.
Hostess programs are indeed like mini compensation plans for hostesses.  They are designed to motivate specific behaviors.
What behaviors are we talking about?  If you'd like, you can use the list below to assess your hostess program.
Bookings
A hostess program is one of the key motivators to encourage guests at a party to host their own party.  The future of a consultant's business is directly tied to bookings, so bookings must be encouraged by hostess programs.
What are you doing to encourage guests to host a party?  Are your sales events truly enjoyable experiences?  Will enough guests wish to repeat their experiences, but this time as hostesses?  If not, you have work to do!
Purchases
While your hostess program should offer a free gift and "hostess dollars" based on retail sales which can be redeemed for products of the hostess's choice, you should also encourage the hostess to spend money on discounted products.  Why is this important?  It's important because when a hostess spends her own money, the profit you earn on her purchases helps to pay for the hostess dollars that were given to her.
The best hostess programs not only reward hostesses well, but they pay for themselves from the dollars spent by hostesses on discounted products!
Second Time Around
Does your hostess program specifically reward previous hosts?  If not, you are missing an important opportunity to make your hostess program truly remarkable.
A Measurement Culture
Are you carefully monitoring each component of your hostess program?  Do you know which parts are working well, or which ones are lacking?  Are you examining results not only across the board of all consultants but also by an individual consultant?
If not, you should start measuring now!
Summary
Hostess programs are a vital component of all party plan direct selling companies.  While the compensation plan for consultants is important, too, if yours is a party plan company, don't forget this mini-compensation plan.
Customer Loyalty Programs
Did you know that Amazon Prime is a customer loyalty program with more than 80 million subscribers who pay an annual fee?
This loyalty program includes many benefits that customers like, including free shipping for two-day delivery and in some metropolitan areas, free same-day shipping.  Included are other subscriber benefits, such as Prime Video, Prime Music, Prime Photo Storage, and in some areas, free restaurant and grocery delivery services.
Two Loyalty Programs
There are two types of loyalty programs.  One type rewards personal loyalty.  The other rewards referral loyalty.  You will need to decide whether to offer one or both of them.
Personal Loyalty
Like all other companies, direct selling companies should have strategies to encourage the placement of multiple orders.  In our special report, 20 Secrets of Successful Direct Selling Company, secret #13 is "Make your M.O. = multiple orders."
Unlike Amazon, your company should be focused on increasing orders placed with it, not on increasing orders placed with many companies through one platform.
Your company should have a loyalty program that specifically encourages and rewards the placement of multiple orders with your company. A good loyalty program rewards your best customers.
Do you have a loyalty program?  Was it designed for your company?  How is it working?  If your answer is "not so good", let's talk at 503.244.8787.
Referral Loyalty
Referral loyalty programs reward customers for referring other customers who make purchases.  While multilevel compensation plans provide financial rewards for referrals, they don't address the sleeping lion (customers who may refer customers).  Can you have such a program?  The simple answer is, "It depends."
Will your customers refer other customers?  What's in it for them?  What can you give them that they don't already get?  The answers depend on your business model, your products, and a few other factors.  Contact me if you want to discuss your options in developing your loyalty programs.
Direct Selling Edge Conference
If you're looking to build your network marketing or party plan direct selling company faster, you need to be at the next Direct Selling Edge Conference.  It's coming up soon.
You may be asking yourself, "Why should I go to this conference?"  I'll tell you why…
Have you considered the power of just one new great idea?  One idea that you don't know just yet can make all the difference to your company.
At the Direct Selling Edge Conference, you'll hear two full days' worth of them.
Do you know 100% of what you need to know to have a successful growing company, or do you need to know more?  What are you doing to learn what you don't know yet?
About The Direct Selling Edge Conference
Held since 2011, the Direct Selling Edge Conference is a direct selling school for companies like yours.
Our faculty members drill down very deeply into the most important topics everyone needs to know more about.  Topics covered in depth include compensation plan design (two sessions), legal issues (two sessions), social media, recruiting, founder programs, project management, how direct sellers think, compliance, and software.
You will also have an opportunity to ask questions of our speaker panel where we answer as many questions as possible.
At the end of both days, there are two hours of private appointment times reserved when you can meet with conference faculty members.  This is free consulting for your company, with an added bonus of conference registration.
If you haven't yet attended one, you should attend the next Direct Selling Edge Conference!
Just A Few Attendee Comments
"The price of this event is a bargain.  I have paid thousands of dollars more to attend conferences that were less informative, less instructive, and less friendly."
"I went to another company's conference last spring.  I learned more in the first two hours of this conference than I learned in two days with the other one.  The content shared was detailed and specific."
"We have been in business for a few years.  This conference is a must not just for startups.  The quality and knowledge of this conference's speakers are simply amazing.  It blew my expectations!"
"The information presented at DS Edge was worth 10 times what I paid to attend."
"I came to this conference two years later than I should have.  Had I come two years earlier, I would have saved over $100,000 AND two years."
More Attendee Comments
Discover what others have told us about their Direct Selling Edge experience by reading more of our reviews.
Questions?
Let's get them answered ASAP.  Call, text, or WhatsApp +1 503.784.7873.
Two Separate Entities
Customer loyalty should not be tied to the sales made to other customers at a party, whether real or cobbled together to meet a party minimum.  Likewise, hostess programs should not provide rewards for sales made over a long period of time.