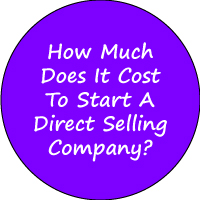 How much does it cost to start a direct selling company?  This is a good question to ask, but a difficult one to answer because there isn't a single magic number to give you.
I can tell you that our clients have launched their businesses for as little as $20,000 and as much as $2,000,000.
What Can You Do?
To help narrow the cost, watch the video below and ask yourself the questions listed pertaining to your business.
What's Next?
If you haven't launched a direct selling company previously, remember to get professional help in reviewing or amending your business plan and budget.  Otherwise, you may find out at an inopportune time that your business plan or budget may be insufficient.
Step #1
Read, learn, and follow the advice in our 250-page book, Start Here: The Guide To Building And Growing Your Direct Selling Company.
Our book will do more than just save you money and time.  It will tell you what to do, what not to do, and teach you what you need to know to have a successful direct selling company.  Without our book, you may make big mistakes that could cost you thousands of dollars and hundreds of hours of your time.
Step #2
Attend the next Direct Selling Edge Conference, our two-day school for direct selling company owners, executives, and employees.
Discover the 15 reasons you need to attend.
Find out what makes our conference so different from others by reading some or all of our excellent reviews.
Step #3
If you have questions or need help with your business plan or budget, Sylvina Consulting can help you.  Please feel free to contact us at 503.244.8787.